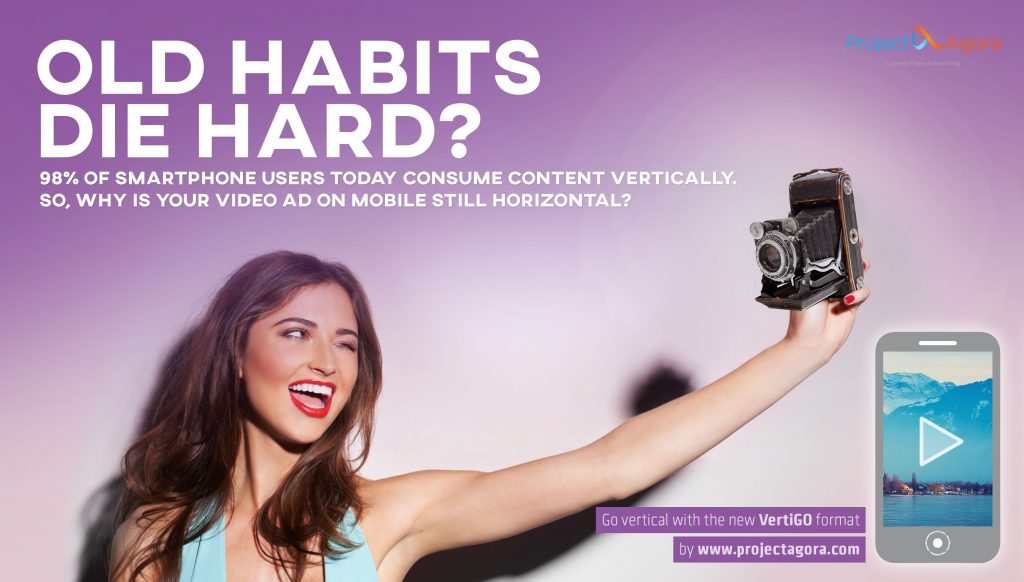 There was a time, not long ago, when vertical videos were attributed to amateurs. The ones that didn't know how to hold their phones correctly when pushing the record button.
Lots of funny tutorials were done to "teach" people to move their phone while filming. Oh well, in this case, who laughs last, laughs best… Because in the digital advertising industry, the majority wins.
That's democracy!
Pros and Cons. Who wins?
Of course, there's a debate about the vertical video opportunity but the truth is that the research data is pretty clear: vertical wins.
According to an Ogilvy & Mather New York presentation (the complete deck, here), the main downsides are: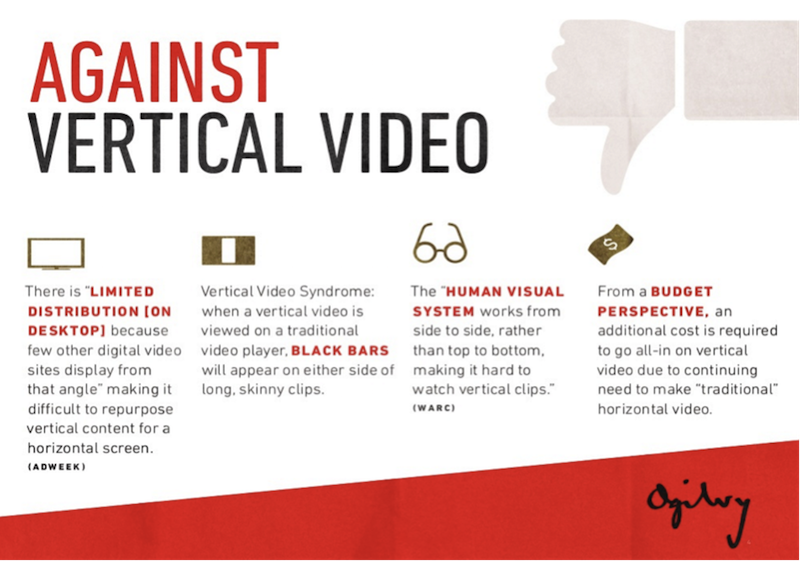 …while the benefits count the following: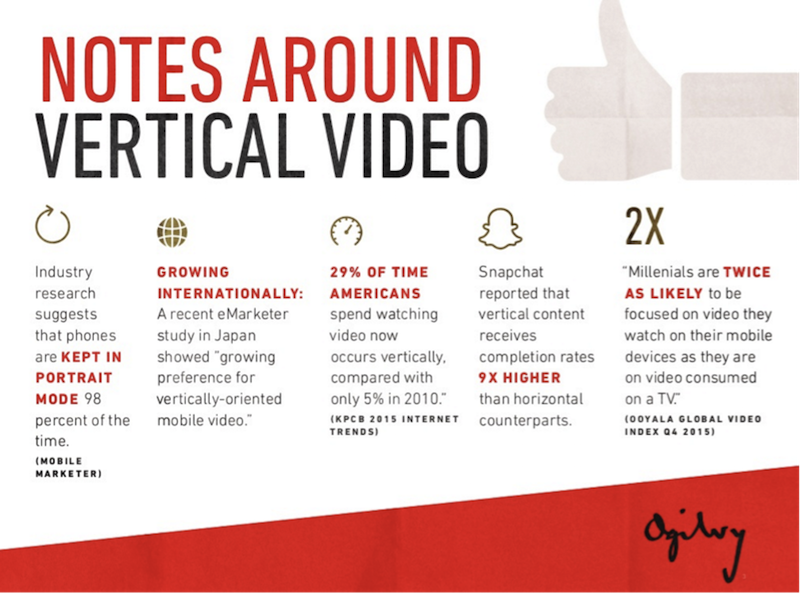 Well done, Snapchat!
So, whom should we congratulate with a "well done!" pat for this? First of all, Snapchat! The platform entirely adapted to the vertical video format/ content. But also Facebook and Instagram are playing a major role in this shift.
"Vertical mobile videos are 9 times more likely to be viewed compared to horizontal videos ", according to Snapchat's commercial presentations.
Is that true? Well, most probably, the answer is "yes".
"Mobile phones are used in portrait mode 98 percent of the time" [Source: Mobile Marketer]
With that in mind, no wonder why big players in the online industry are adapting to this situation.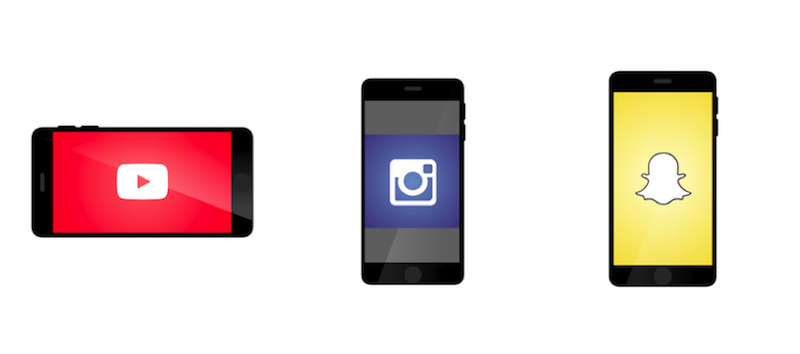 Both Facebook and YouTube have recently updated their mobile apps to play vertical. And it's only the beginning.
Facebook took a step further and just launched it's vertical video ads. "The CPM rates were three times more efficient for vertical video than square video so far", said Jason Stein/ CEO at Laundry Service, the agency responsible for the first vertical video ads on Facebook. [adweek.com]
By the way, did you know that there's a film festival for vertical videos only? Check this: http://verticalfilmfestival.com.au/about/. Yeap, that's how big this is!
Vertical content
45% of global video views are now on mobile devices. 38% of all eCommerce transactions now happen on mobile.
This is only the peak of the iceberg, because in the case of young-oriented brands, the total number of transactions in the developed markets is bigger than 50% since quite some time now.
So, if mobile is already such a big thing, let's make some good content for this kind of devices! That's what Snapchat seems to say.
And good content is exactly what they did, because one of Snapchat's main features is its network of media channels under its Discover/ Stories brand. It's a place with a lot of good & original content.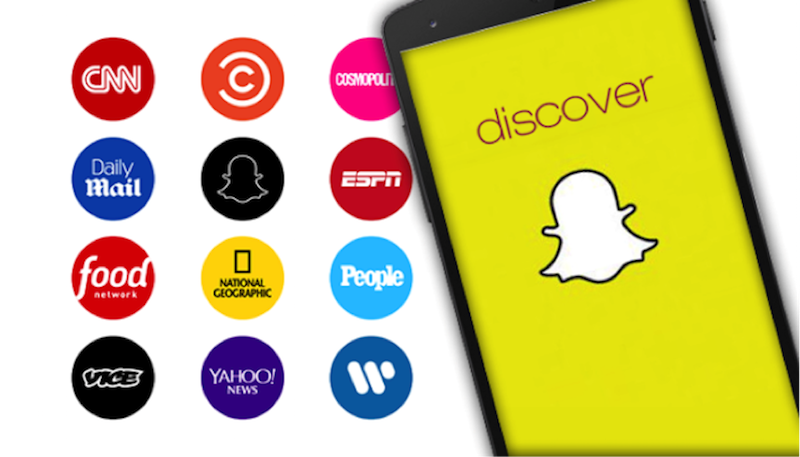 "I recommend shooting vertically simply because you'll be able to envision the story in that frame and build a more cohesive piece of creative, instead of retrofitting", Sam Goodman/ Creative Strategist @ Snapchat [ogilvydo.com]
Copy/Paste/Improve: Instagram Stories
The Internet giants responded firmly to this challenge and tried to adapt to the requirements of the new vertical format.
The best example comes from Instagram which just launched Instagram Stories, "a new feature that lets you share all the moments of your day, not just the ones you want to keep on your profile".
You can share as much as you want throughout the day
You can bring your story to life in new ways with text and drawing tools
The photos and videos will disappear after 24 hours and won't appear on your profile grid or in feed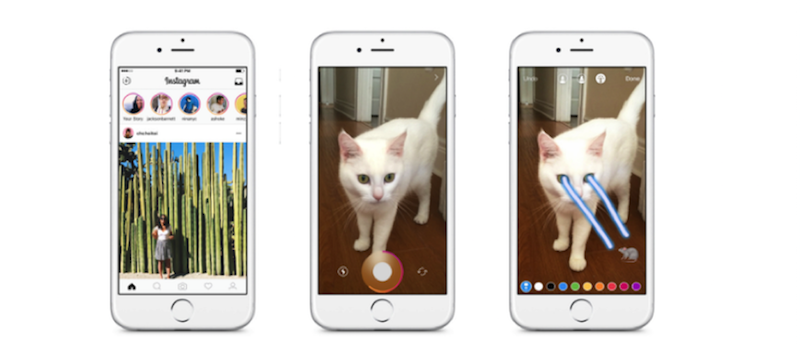 But this bold move comes with some risks: everybody can see the resemblance between Snapchat and Instagram Stories.
"This isn't about who invented something. This is about a format, and how you take it to a network and put your own spin on it", said Kevin Systrom/ Instagram CEO [TechCrunch].
Vertical Video in Advertising
The facts are simple: "On average, people around the world will spend 86 minutes a day using the internet on their phones, compared to 36 minutes on a desktop, this year" [DigiDay].
Plus, the global mobile advertising market will hit two significant milestones in 2016 [eMarketer]:
Surpassing $100 billion in spending
Accounting for more than 50% of all digital ad expenditure for the first time
In the CEE markets, the trend is similar. Recently, eMarketer published some figures that show a clear steady growth for mobile video (thus, for vertical video, too).
Actually, 2 years from now, digital advertising will be meaning mobile advertising, with shares bigger than 50% in the CEE and close to 65% in Western Europe.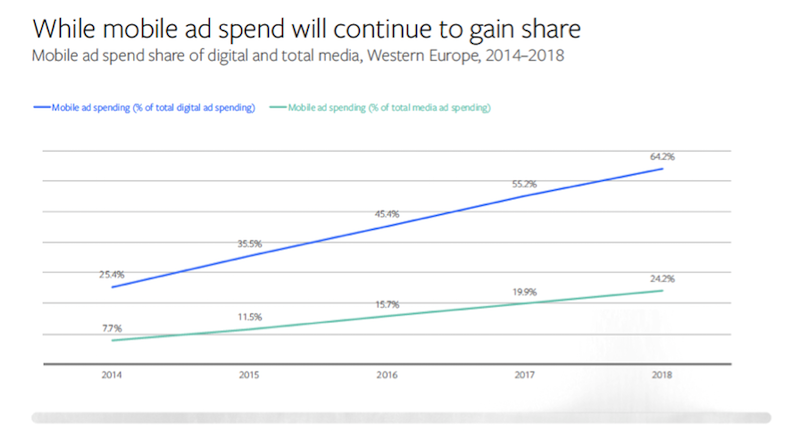 Central and Eastern Europe: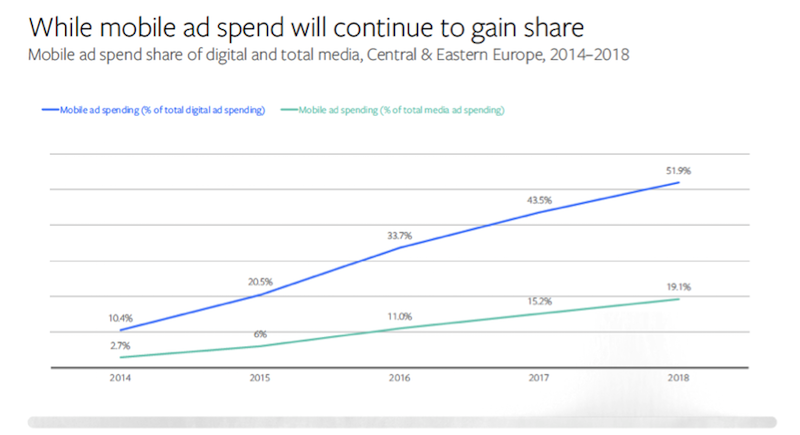 Say "Hi!" to VertiGO by Project Agora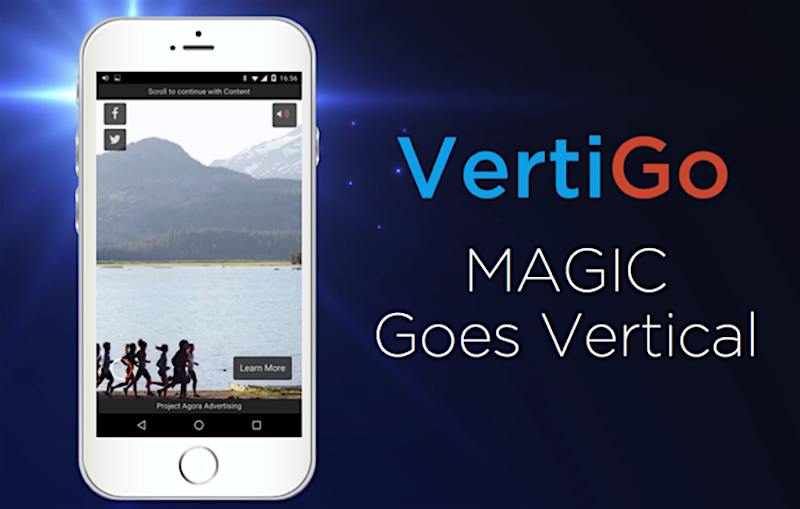 Considering all these numbers and market trends, Project Agora launched a new vertical format for programmatic mobile advertising.
Magic VertiGo is member of the "Magic" family of Impactful Ad-Formats and representss a polite multiscreen interstitial.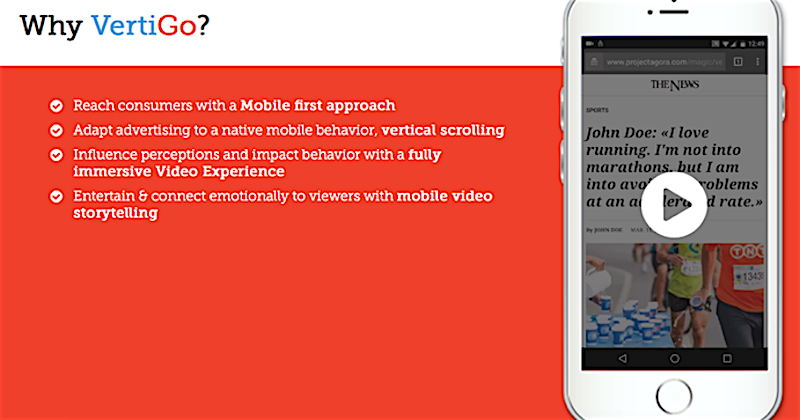 With a fully customizable Call to Action button, VertiGO automatically plays only when is visible.
Ad-Format Benefits
Adjusts advertising to the way consumers are accessing content today in all screens: Vertical Scrolling
Ads are upright, full-screen placed in mobile publisher content
It can utilize video to multiply the impact while still having call to action elements to induce actions
Sits at the center of consumer attention
It's polite and non-intrusive
Advertiser Benefits
Exploit the hallo effect that every new ad-format enjoys during its first interaction with consumers
Optionally create be-spoke formats that fully leverage Magic VertiGo's unique features
Maintain an innovative profile in your digital advertising communication
Maximize the exposure to Project Agora's sharp audiences in full
One thing is for sure: vertical video is no longer the future. It's happening now. It's about evolution so… go vertical!