The famous futurist Salim Ismail is our special guest at this year's festival.
Salim Ismail is the best-selling author of "Exponential Organizations", a sought-after business strategist, and a serial entrepreneur, having founded several technology companies including Confabb, PubSubConcepts, and Ångströ (acquired by Google in 2010).
He consults with governments and the world's top Fortune 500 companies on innovation and growth, and his work has been featured in premier media outlets like the New York Times, Bloomberg BusinessWeek, Fortune, Forbes, WIRED and the BBC.
He will be on stage on June 14th, in the 2nd day of the festival, for a long-form keynote, followed by a Q&A session. Afterwards, he will host a C-Level VIP Session followed by interviews and a book signing session.
"I think we have to reinvent everything. And I think we have to do it very very fast" – Salim Ismail
Salim is Founding Executive Director and Global Ambassador of  "Singularity University" which is based at NASA Ames and aims to educate, inspire and empower a new generation of leaders to apply exponential technologies to address humanity's grand challenges.
"Singularity is a mathematical concept. The iPhone rising was a singularity in the mobile phone world. Everything changed", explains Salim.
The Founder of iCEE.fest: UPGRADE 100, Dragos Stanca, recently interviewed Salim Ismail about his mission at "Singularity University", the challenges for the big companies these days, AI threatening jobs and many more.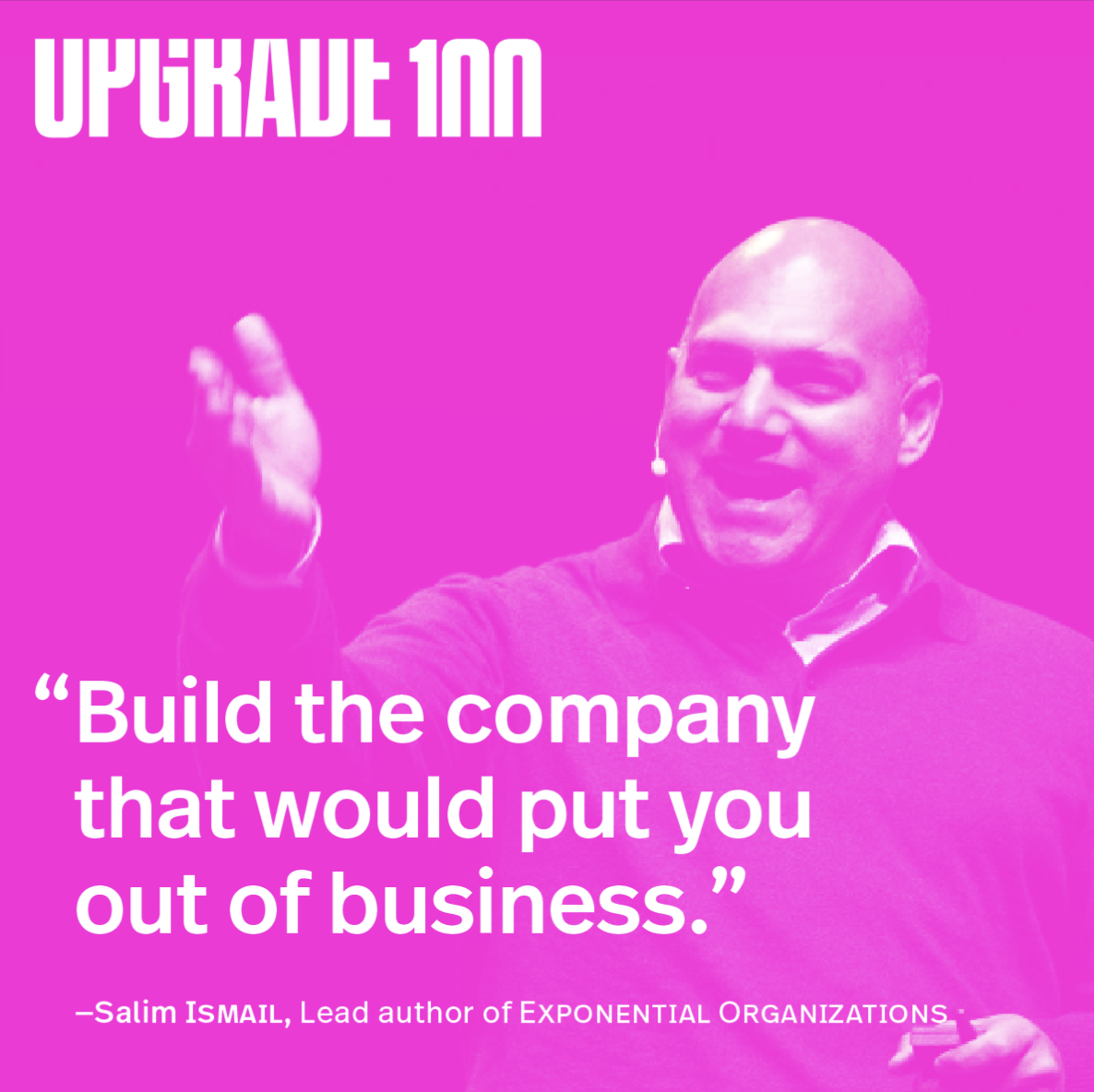 There are three big challenges for the big companies today, Salim said:
When you digitized a domain, the only relevant question is "where's the revenue?"

If you try something disruptive, the immune system of your company attacks you – all organizations are built to resist change.

Allow new ideas to get at the edge.
DS: Do you fear companies like Apple, Google or Facebook are gaining to much power?
SI: First, it's good and bad. We thought that the internet would democratize lots of things. But it looks like the winners take it all. But, as the tech companies merge into the material world, it will be harder to have a monopoly.
DS: Will the robots and the AI be a threat for future jobs?
SI: I think tech was always a major driver of progress. Maybe the only one. So I'm very optimistic than most people. For example, in Germany, all the factories are automatized. Employment hasn't dropped at all. And the need for jobs is still there.
The interview was broadcasted at the UPGRADE 100 by Dragos Stanca radio show, at Radio Guerrilla — > the full recording is here.
Focus on Exponential Organizations
After the best-selling book "Exponential Organizations: Why new organizations are ten times better, faster, and cheaper than yours (and what to do about it)," organizations all around the world are trying to implement the ExO model.
ExO is considered the innovation model that allows organizations to adapt themselves for the Fourth Industrial Revolution.
The book is a guide to navigating the shifting business environment due to the introduction and proliferation of exponential technologies.
Until we see Salim on the iCEE.fest: UPGRADE 100 stage in June here's his excellent TEDx Talk from Toronto: "How do we fix civilization"?
Enjoy and book your ticket today at the best available price to meet Salim in person in Bucharest on June, 14th.