For FinTech, the last 2 years were all about innovation and breaking barriers. Mental barriers but mostly geographical ones.
In a study conducted by KPMG and H2 Ventures, 17 different countries are represented in the "Fintech 100 – Leading Global Fintech Innovators" top.
And here's the global representation: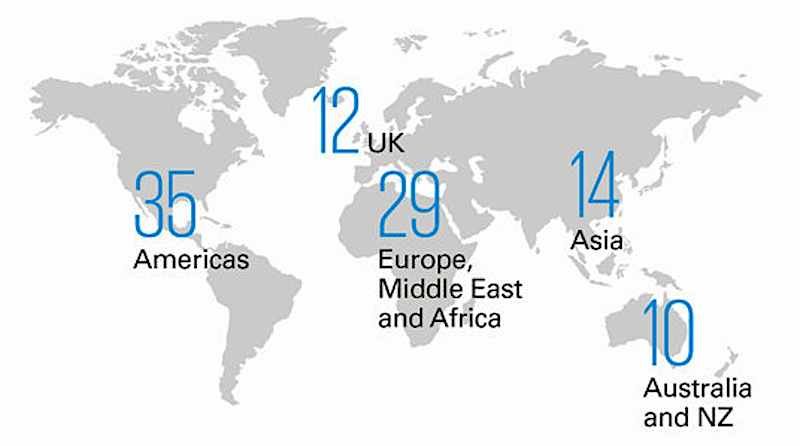 This report identifies the leading 50 'Established' FinTech companies across the globe, and the most intriguing 50 'Emerging Stars' – exciting new fintechs with bold and disruptive ideas.
"More capital than ever is invested around the world in startups that are creating new financial products and solutions" [source]
Here you'll find the complete study but let's see some key points:
China now tops the global rankings– within 3 years, China's FinTech ventures have gone from only one company included in the top 50 rankings in 2014, to this year China featuring 4 of the top 5 companies and 8 of the top 50
Disruptors dominate– 9 of the top 10 companies on the list are FinTech 'disruptors' (and 46 of the top 50)
Lending returns to the fore– 23 of this year's top 50 (and 32 in the 100) have business models related to lending (up from 22 last year).
Insurtech continues its climb– with 12 insurance fintech companies in this year's list, almost double last year's total.
Emergence of regtech– with 9 fintech companies focused on regulatory solutions in the list this year.
Mega funding rounds – the size of deals/funding rounds above US$1bn have continued to rise, including Ant Financial, Lufax and JD Finance.
Aggregate level of capital raise continues to rise– reaching a total of US$14.6bn of capital raised since last year's report (12 months ago).
A new approach to innovation in FinTech 
FinTech's influence on Financial Services is growing year over year and, according to a new PwC global report "the majority of global Financial Services companies plan to increase FinTech partnerships".
In addition, 82% of incumbents expect to increase FinTech partnerships in the next three to five years and 77% of them expect to adopt blockchain as part of an in production system or process by 2020.
"The Financial Services industry will be unrecognizable in 5 years. The innovators of today will not necessarily be the innovators of tomorrow" PwC global report
6 factors that will help you prepare for the future:
Evaluate emerging technologies
Take a partnership perspective
Integrate to innovate
Create an IT culture that will support innovation
Concentrate on the customer's voice and shift thinking to outside in
Foster a company culture that supports talent and innovation
The best in FinTech
FinTech has become a market of billions of dollars: "after hiting $19 billion in total in 2015, worldwide FinTech funding hit $15 billion by mid-August 2016. The U.S., Europe, and the Asia-Pacific (APAC) region led the way in attracting the most fintech investment". [source]
below, total funding raised by major European digital-only banks [BusinessInsider]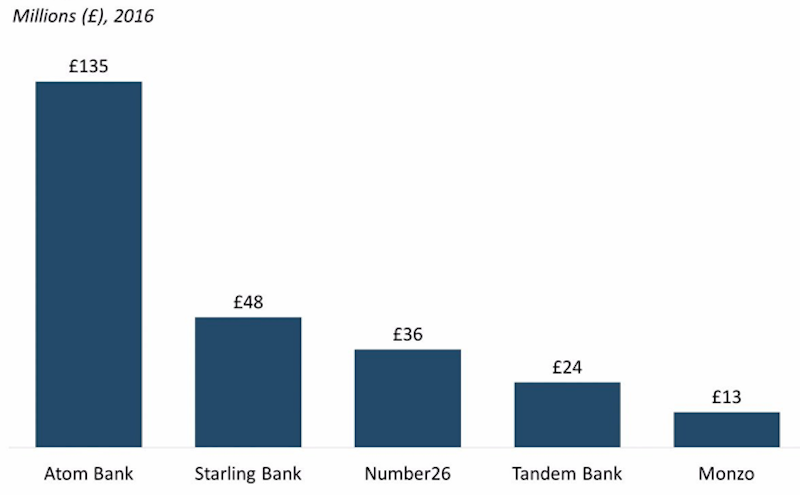 "The $1.7 trillion U.S. financial services industry is being fundamentally reordered as a tsunami of technology disrupts the way we save, invest, spend and borrow" Forbes
Under these circumstances, Forbes has made a Top 50 FinTech startups & companies – and here are some of their nominees:
Activehours – Mobile app allows worker to get a portion of his paycheck, for hours already worked, deposited into his bank account before payday, with the fee for this advance set by the user
CircleUp – Crowd funding site connects entrepreneurs developing new consumer products with potential distributors and financial backers. A new "Classifier" tool uses 90,000 data points to help potential investors evaluate a company
Gusto – Cloud based software helps smaller businesses, most under 100 employees, administer payroll and payroll taxes, health insurance, workers' compensation and 401(k) plans
TransferWise – Peer-to-peer app for transferring money around the world has software that invisibly matches unrelated customers' orders to limit how much currency actually crosses borders. Aims to charge 80% less than a bank. Just launched service for business transfers, too.
Furthermore, Business Insider has rounded up the 40 most exciting people in the UK FinTech scene:
CEO & CoFounder @ Monzo Bank, Tom Blomfield was on top of that list and the main reason is that Monzo represent the fast-growing London FinTech app that's creating a branchless bank.
We talked about billions of dollars but here's another truth: according to the World Bank, there are two billion people globally who currently have no access to banking services.
And FinTech must find a solution for those people, also.
*****