What has changed in the last year in Fintech? And what's next? What about Bitcoin's fluctuations? Are the cryptocurrencies the future? What should you do next when it comes to your money? Ar the ICO's safe to invest in?
How are the big traditional brands in the financial and banking sector developing technology in-house and what are the upsides in partnering with startups?
And the key question: what is the future of money?
All the answers will come from the people involved in this life-changing revolution.
Both incumbents and disruptors, on the same stage, talking about their experiences. Here are some of the highlights in Fintech, Blockchain, ICO's and Crypto @ iCEE.fest 2018.
But first of all, it's important to say that Revolut will take the festival's stage and we're very curious to find out all the details about the company that now has over a million customers across Europe two years and a half after launch.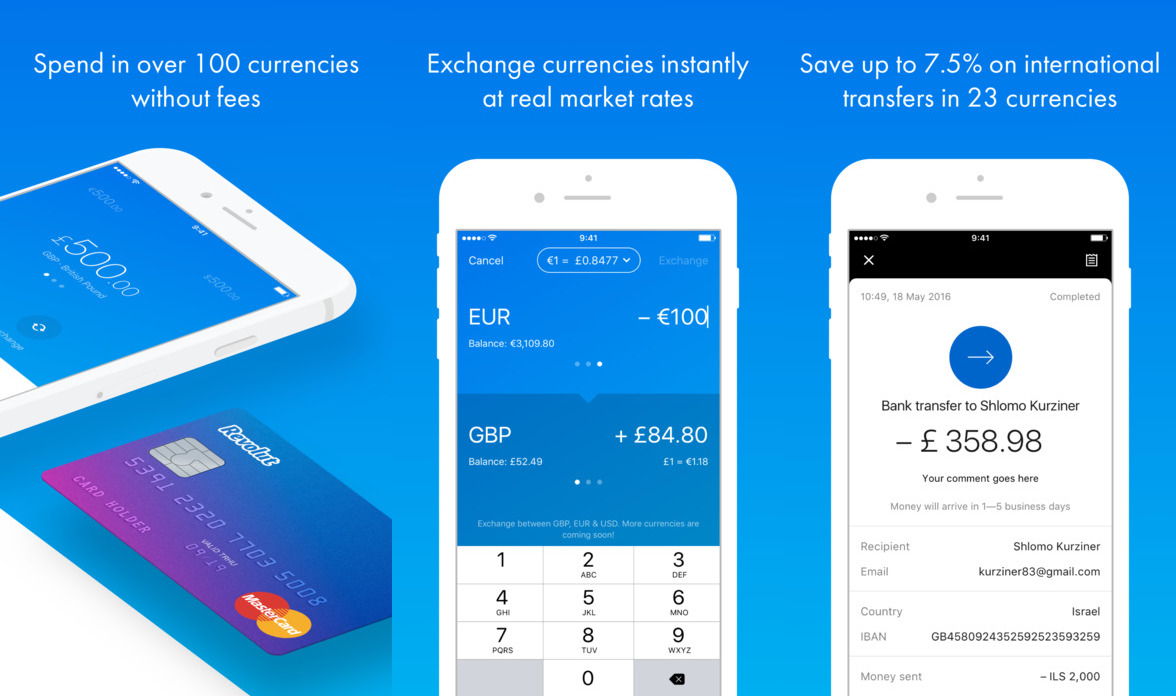 Revolut is a digital banking alternative that includes a pre-paid debit card (MasterCard or VISA), currency exchange, cryptocurrency exchange (Bitcoin, Ethereum, Litecoin) and peer-to-peer payments. 
"Revolut is currently acquiring between 3,000 and 3,500 new users every day, and it is accelerating" [source]
The London-based startup was founded by Nikolay Storonsky and Vlad Yatsenko and currently supports spending and ATM withdrawals in 120 currencies and sending in 26 coins directly from the mobile app.
But this is just an example since there are more great speakers and companies to join. Here are some of them: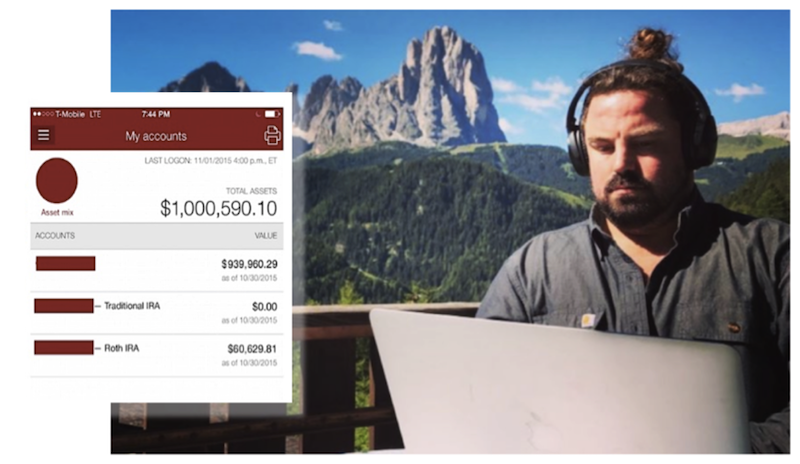 Grant Sabatier (foto)Founder @ Millennial Money, a personal finance, investing, and entrepreneurship community dedicated to financial independence and early retirement.
"Just after college I was unemployed, living at home with my parents, and had only $2.26 left in my bank account. 5 years later I had a net worth of over $1 million" Grant Sabatier
Although he's got 69.2 bitcoins in his "pockets" – that's close to 700,00 USD at today's bitcoin value–, Grant said a couple of months ago that "I don't recommend you invest in Bitcoin today". @ iCEE.fest, we'll see if he changed his mind about this topic.
---
Richard Kastelein, Co-founder @ CryptoAssets Design Group, a collection of writers, marketers, designers, academics, investors and more.
VIDEO/ Richard Kastelein, Blockchain: Out of the Labs
"We have helped raise over $35 million for over a dozen Blockchain startups via Initial Coin Offerings (ICOs) also known as Token Sales or Crowdsales"
Richard is an award-winning publisher & entrepreneur
He sits on the advisory boards of a dozen Blockchain startups (ICOs) & has written over 1.500 articles on Blockchain technology at Blockchain News & has also published on ICOs in Harvard Business Review & Venturebeat
---
Luis Rivera, Co-founder & Business Development @ ETFmatic, a fintech startup led by a team of experienced entrepreneurs that believe "we all deserve a simple and cost-effective way to put our savings to work through highly diversified investments in low-cost index funds".
Luis's education includes an MBA from INSEAD (Fontainebleau), a Bachelor of Science in International Business from ICADE (Madrid), CBS (Copenhagen) and McGill (Montreal), and more recently, the CISI Investment Advice certificate in UK Regulation & Professional Integrity.
---
Bartosz Golba, Head of Content, Wealth Management and Kit Carson, Head of Banking and Fintech – both from Global Data, a specialist information provider serving the international financial services markets.
The banking systems are severely shaken by challengers who have a different approach to customers and building trust with them, through education about saving plans, investment opportunities and wealth management.
Investments are becoming more accessible to everyone, but how do we learn to make the correct, efficient and long-term profitable ones?
Proportions of online consumers with a current account who use mobile banking on a daily or weekly basis: [source]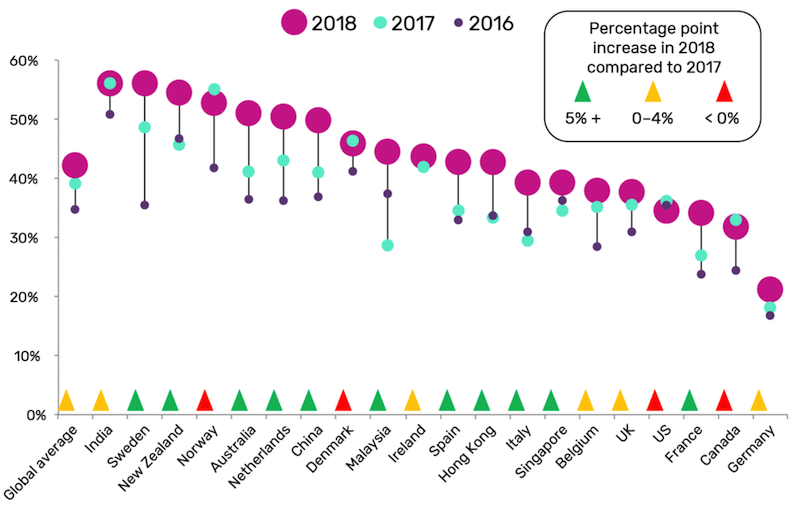 ---
Iona Bain, Founder @ Young Money Blog, the first British blog set up to try and help young people get to grips with personal finance.
What discourages people from saving? What knowledge does one need to make conscious decisions and take charge of side hustles and income-driving activities?
"Young Money is about taking back control and being free – free to think and act in your best interests"
VIDEO/ Iona Bain: Young investors: the opportunity and how to adapt to meet their needs
Iona set up the blog to get more clued up about money, and its unique success has led to her publishing her first book (Spare Change), writing for a range of renowned publications, such as the Times of London, and becoming the youngest ever governor of the prestigious independent Pensions Policy Institute
She also works regularly with the BBC in the UK on radio programs, TV commentary and online videos aimed at generation Y.
---
Jonny Paul, Organiser @ Fintech Week Tel Aviv, an annual conference bringing together the Israeli and global ecosystems.
He is a consultant in the Fintech space in the UK and a financial journalist, previously at the Financial Times and Daily Mail
Jonny also works with Israeli Fintech start-up iCapital, who are part of the London Stock Exchange Group's Elite programme.
---
Simon Phipps, Head of Asia, Global Development & Blockchain @ The Digital Insurer, the forum for professionals interested in the impact of digital technology on insurance business models.
VIDEO/ Simon Phipps about Bitcoin Price and Blockchain Solutions
With over 25 years in insurance, Simon has broad industry and consulting experience, working in increasingly senior roles across Life, GI and Asset Mgt businesses in Europe and Asia, most recently as KPMGs lead partner for insurance advisory and, previously Managing Director of Aviva, in Hong Kong
He is passionate about helping insurers engage more effectively with customers and, making insurance more relevant to more people, through technology.
---
Timo Dreger, Investment Manager at coparion, a 225m EUR venture capital fund for young technology companies.
"I am always looking for new investments – typically German online/tech companies with €B potential requiring early stage & growth financing of €500k to €10 Million"
Timo is consistently ranked as one of the leading FinTech and InsurTech Influencer worldwide.
Furthermore, he was a Global Shaper Curator of the World Economic Forum and is an enthusiastic lacrosse and golf player.
---
Jaco Oosthuizen, Co-Founder and Chief Wellbeing Officer at yu life, a new and disruptive breed of insurer.
"Our vision is to reward health and inspire life and we will provide individuals and businesses with fast, easy and affordable insurance"
---
Nathalie Ferrant, Sr Director – Global Digital Distribution @ WU
Seasoned business development professional with extensive experience in P&L management, team and project management across geographies, complex negotiations, new product launches, and pricing, mostly in B to B to C environments.
> 10-year experience in the payment industry, with expertise in Fintech, remittances, money transfer, 5-year experience in management consulting and 2 years in the telecom industry
---
David Chaum, CTO @ Digi Cash
VIDEO/David Chaum 'Godfather of anonymous communication' – BBC News
With a PhD in Computer Science from UC Berkeley, David taught at NYU Graduate School of Business and the University of California. He led a number of breakthrough projects as well as founded the International Association for Cryptologic Research, the cryptography group at the Center for Mathematics and Computer Science in Amsterdam, DigiCash, the Voting Systems Institute, and the Perspectiva Fund.
***
iCEE.fest 2018 will take place in Bucharest, RO – June 14 & 15
Be part of the show and
In doubt? Watch this for 90 Seconds 😉