UPGRADE 100 ți-a pregătit 6 (update, scuze: 9) ore intensive, în 18 februarie, începând de la ora 9 AM, exclusiv despre produsele din ecosistemul Facebook.
Specialiștii globali ai companiei și experți independenți vor explica timp de 6 ore într-o transmisiune live din București, Dublin, Varșovia și Londra cele mai noi tehnici și secrete ale tuturor platformelor operate de Facebook.
Pentru a aduce pentru comunitatea sa acest conținut valoros, UPGRADE 100 a încheiat un parteneriat cu Marketing Week / Boussias și readuce proiectul "All Things Facebook" în România, în parteneriat cu Orange și IQos.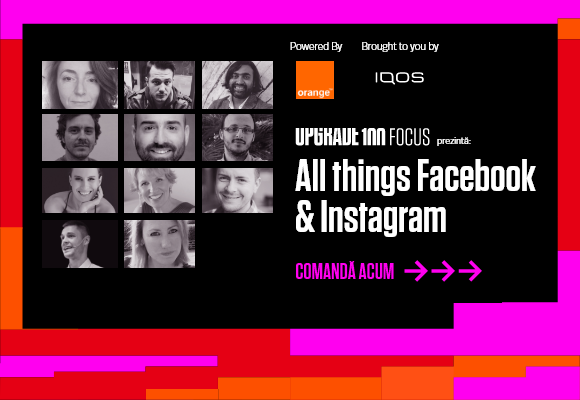 Cine vor fi trainerii?
Experții în digital marketing Alex Negrea – owner Social Smarts și Dragoș Stanca –  managing partner Thinkdigital & fondator UPGRADE 100 – vor comenta noutățile și studiile de caz prezentate live, din studioul amenajat la SAGA Space, ajutați de lideri ai comunității de comunicare din România.
Nu ratați nici warm-up-ul: Podcastul UPGRADE 100 Live -> unde Alex și Dragoș vor comenta evoluția și provocările Facebook din ultimul an. Special guest: Joan Barata, Cyber Policy Center, Stanford University:
Echipa Facebook care va prezenta joi, 18 februarie, este formată din 4 reprezentanți:
Acestora li se vor adaugă 13 experți internaționali independenți:
Mari Smith  – Expert Independent. Poreclită "Regina Facebook", Mari este considerata unul dintre cei mai importanți experti din lume in marketingul Facebook și un lider de top in gandirea rețelelor sociale.
Mirza Hadzic – Infobip | WhatsApp Business Solution Partner. Sales Director pentru Europa al unicornului croat Infobip (companie cu 2.400 angajati care are sediul la Londra). Solutiile Infobip sunt folosite de companii precum Burger King, Uber sau Vodafone.
Patrick WIND – AdsAccelerator. Managing Director. Unul dintre cei mai cunoscuți experți în marketing, prezent în lista 30Under30 by Forbes.
Arjoon Boose – General Mills. Head of Culture and Brand Experience, cu o experienta de peste 16 ani in roluri de conducere in L'Oreal sau General Mills. E jurat al Global Effie Awards.
Soco Núñez de Cela – Burger King UK. Head of Brand & Marketing and Comm. Este omul aflat la baza succesului campaniilor Meltdown, Kanye West, Stevenage Challenge, Whopper of a Bus.
Dimitris Kanellis – Creative Technologist. Creatorul unuia dintre cele mai populare grupuri de Facebook din Grecia: "Thank you, next!"
Efthymios Savvakis – Aristotle University of Thessaloniki – TEDx Speaker și omul care a reușit să facă spectacol din prezența online a unei companii de…. pompe funebre!
Dimitris KALAITZIS – Greek Internet Marketing. Marketing Team Leader. Cu o experienta de +7 ani in digital merketing a devenit unul din liderii industriei.
Tania Giakoumaki – Curious Ahead. General Manager. Un profesionist cu experiență atât ca și client într-un mare lanț FMCG din Grecia, cât și ca om de agenție.
Maria Manolioudi – Breitling. Global Head of Media. Maria vine cu experiența ei în piețele UE, ca agenție bazată în Elveția.
Ned Poulter – Pole Star Digital. CEO & Founder. Ned a cheltuit peste 6 milioane de euro pentru clienții săi în ecosistemul Facebook iar agenția sa se numără printre cele de top din Europa în zona CPC.
Tolis Aivalis – KnowCrunch. Syllabus Manager. Cunoscut trainer și lider de opinie.
Konstantinos ANDROUTSOS – ROIX. Chief Marketing Officer. Profesionist cu experiență vastă în digital marketing.
Agenda completă și toate detaliile privind accesul la acest webcast sunt disponibile pe pagina oficială ->