The MINDSCAPES team, represented by one of the mostly praised speakers of the UPGRADE 100 Festival, Ravid Kuperberg, will deliver a webinar for our community on Wednesday, July 15th, starting @10 AM / Bucharest – Tel Aviv (GMT + 3)
It's the place to be if you're a creative in an agency struggling to deliver fast, efficient and valuable results for your clients, in a new global order, strained by precaution and cash-strapped communication budgets.
The take-away from the webinar will be simple practical ways to operate your mind
Ravid Kuperberg, MINDSCAPES
The community that formed around the already notorious iCEE.fest which was rebranded last year as UPGRADE 100 – as it also gained several digital transformation content streams – is most welcomed to join free of charge (that's also possible due to the help of our friends from Coca-Cola).
The event itself comes with a new approach: the selection of the attendees comes with no cost, but, after the webinar, the participants are invited to express their satisfaction by paying the money they consider right for the content received.
Sounds like a fair deal? 😉
Register now on the event's landing page and you'll discover all the details.
Not just another online training…
Okay. There are hundreds of so-called online events these day: why do we think ours is worth your time investment? Here's what Ravid is saying, in a short Q&A session: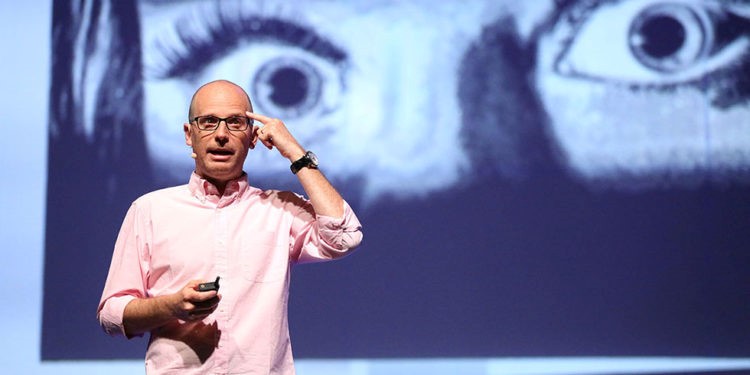 – There are tons of free webinars and trainings out there. Why should people bother to join ours?
Very good question! Most of all because it will be active and PRACTICAL. We will explore creative thinking patterns together. Which we will apply + experience during the session. So that attendants can understand and use them immediately after the session.
The take-away from the webinar will be simple practical ways to operate your mind.
A lot has been said in recent months about what people/brands/agencies need to do and how they need to respond in this time of adversity. This webinar is about what happens before that. About how to think. How to use your mind in an efficient way so as to reach creative ideas which help you do and respond the way you want to.
– Why Mindscapes, why you? Who are you to pretend that the creative people that usually know everything must attend?
I don't think creative people believe they know everything. But I do understand they consider their unique skills as a form of talent. And what they will realize in the webinar is that everything I will discuss is there to… empower their talent. To help them use their talent in a more efficient manner. Not to replace it.
And it will all be based on appreciating and decoding creative thinking footprints found in brilliant award winning ideas, which have proven to be effective in times of crisis.
Like in sports, the equipment you use for showing your talent can make a real difference in the level you preform. So here, it's about the equipment available for your mind to use. Which can help improve its performance. Whether you are an experienced creative thinker or a junior one.
I believe there are many creative talents in Romania and around the world who will attest to that.
Also…  my mother will attest that I am extremely pretty and nice, so you might want to join the session just because of that.
– How the creative strategies changed during crisis, what are the main 3 trends you consider being right and also wrong?
When responding to the adversity of crisis there is a primary obstacle we need to recognize and address: Accepting (REALLY accepting) that things will need to change and will not be the same as before. Adapting to such change is hard work, under a lot of stress and anxiety. Which is why many of us, deep deep down, still have a portion of hope, there still a chance to go back to the way things were. Thereby limiting our thinking. And our doing.
Once you are past that, there a few things you need to consider, for example:
How to understand and decode problems beyond their face value
How to provide real tangible value, in clear differentiating ways, while delivering the right message to consumers and remaining loyal to the unique values and narrative people appreciated before the crisis.
How to help people feel significant and powerful again, after feeling vulnerable and realizing they are not as in control as they thought.
How to become more efficient and effective in the processes leading you to the creative outcomes you are aiming for.
We will of course discuss how to do all that during the webinar. And much more. Hope to see you at the session… in a very small box at the top of the screen 😉
We hope that, too. So…