UPGRADE 100 kindly invites you to Digital DNA Summit, the world's first conference on synthetic (AI-created) media, which will benefit from the presence of some of the most visionary minds in the world.
Confirmed speakers include Chris Barton (founder of Shazam), Sid Venkataramakrishnan (the European correspondent on technology of Financial Times) – both of them will be interviewed live-on-stage by our founder, Dragos Stanca – Bethanie Maples (Stanford), Scott Klososky (Future Point of View) and more.
The event will take place online tomorrow (December, 10) and Friday (December, 11). And… you can be there, too –> just check your inbox (if you're subscribed to our newsletter).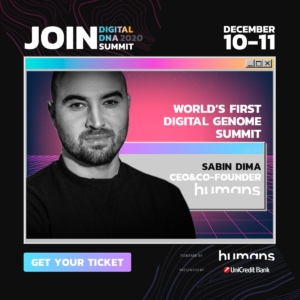 Sabin Dima (foto) the founder of Digital DNA Summit and CEO Humans:
Digital DNA Summit is the first international conference covering synthetic (AI-created) media. We aimed at opening the conversation about the AI-generated future and, at the same time, help innovators understand how their ideas would change the world. We are also militating to keep the Digital DNA in an ethical framework, and the Digital DNA Summit is the first step in this direction.
More than 30 speakers, among which Artificial Intelligence researchers and founders of technology start-ups, will be present on the virtual stage of Digital DNA Summit to talk about how the digital genome will revolutionize extremely diverse industries, from the medical area to the entertainment sector, from education to fashion, from gaming to social media.
The Digital DNA Summit will address two major themes over the two days of the event. The first day is dedicated to the progress in the field of Artificial Intelligence, and the second to the ethical framework around these advances.
The event is organized with the support of UniCredit Bank and it is amplified by UPGRADE 100.
More information about the event, including agenda and details about purchasing tickets can be accessed HERE 
Before you go: if you speak Romanian and you're interested in discovering more about HUMANS and their synthetic (AI-created) media project don't miss our UPGRADE 100 Podcast: