Today we release over 400 presentations, adding up to 140 hours of content, highly valuable and potentially enriching for all marketing, communication and digital media specialists.
It's all on the iCEE.academy platform,  a segment of the extensive Interactive Central and Eastern Europe project (which also encompasses the iCEE.news site and the series of events within iCEE.fest).
The platform offers free access to the presentations from the festival's archive between 2013-2016 (264 videos) while the 2017 presentations and workshops (137 videos) are unrestricted only to those who have a valid ticket for this year's iCEE.fest or for the 2018 edition.
The free presentations  can be accessed here while for the viewing of the new videos, authentication can be done here with the username and password used for the iCEE.fest app.
Click on the picture bellow to sign in: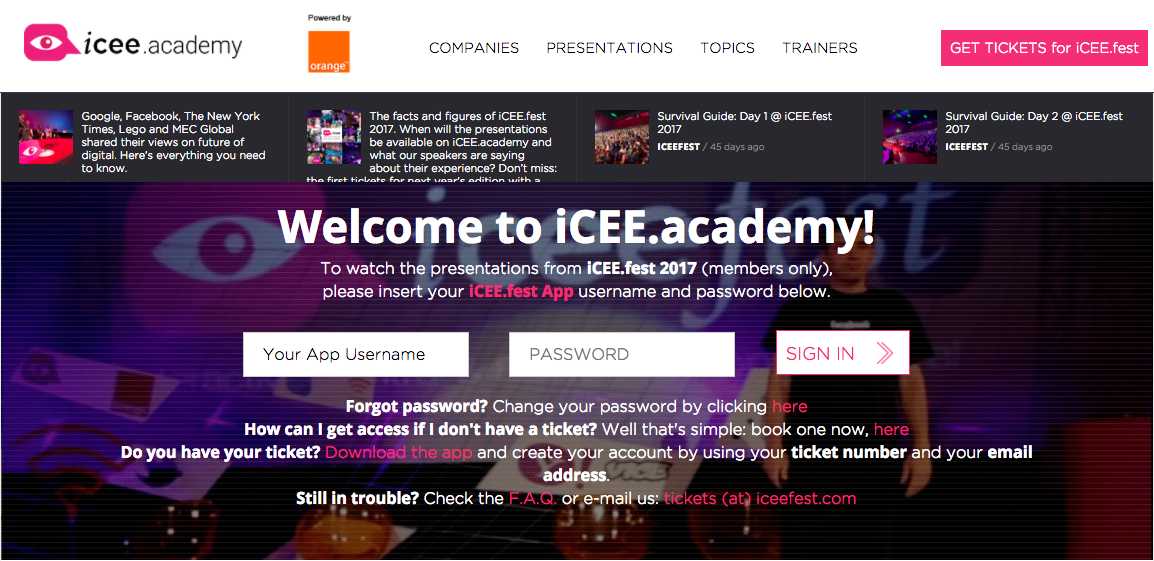 NEW! For the first time, we also released the presentations in the iCEE.fest app, following the flow of the event that happened in June. Basically, the entire content is available as per the 2017 agenda, which allows everyone who has been there to review their favourite speakers or view the presentations they missed.
"The iCEE project is not only about the festival, which is the most visible component. We try to keep the dynamics streaming all year long through the iCEE.news and the meaningful presentations of the iCEE.academy. It's a natural gimmick to offer those who support us each year, by investing in a ticket, which actually represents a membership fee for accessing a vibrant network of people, whom we strive to incentivize constantly with relevant and useful addons"

Dragos Stanca, Founder, Interactive Central and Eastern Europe
For who is interested, there is a useful FAQ to make the most of the iCEE.academy.