Digital banking group Monese announced two weeks ago that 2 million customers have officially signed up for its services. Guess what: 15% accounts are owned by Romanians – we've found out today, directly from Norris Koppel, (photo) the CEO and founder of the company.
9.000 new users, daily
We've met Norris in Bucharest, getting ready for next week's milestone for the Romanian market: users will be able to open up accounts with a Romanian IBAN – a feature that's not available with other operators, such as Revolut, for the moment.
At a general level, Monese reported that in 2019, customer growth tripled, with more than 9,000 users now joining its platform every day. At this current growth rate, Monese is on track to exceed five million sign-ups in 2020.
"In the last six months, Monese has doubled its customer sign-ups, with mainland Europe accounting for nearly three quarters of this growth. This milestone demonstrates significant momentum, following Monese's successful $60 million Series B fundraise in September 2018, the introduction of joint accounts, as well as increased functionality across all products" – Norris Koppel, Founder and CEO of Monese.
300,000 Romanians are using Monese
Perceived as the main competitor of Revolut – by the way, both companies started in UK in 2014-2015 –  Monese's founder also revealed today, in an exclusive talk with the UPGRADE 100's founder Dragoș Stanca, that outside the UK's 800,000 current account holders, Romanians are now close to 300,000 accounts (100,000 in Romania, 200,000 abroad).
Starting next week, Monese will also launch local bank accounts and IBAN in RON (the Romanian official currency), this being considered an important competitive advantage compared to Revolut (the company just announced 1.000.000 active users in Romania a few days ago – out of a total of 10+ million active accounts).
The founder's vision for the next 3-5 years?
"In 5 years, I would be absolutely happy if MONESE would be far beyond Europe, as well as our customers, let's say Romanians, wherever they happen to live in the world, they can use just MONESE and no other bank and they can take this service anywhere they want and it will replace any other banking service"
– Norris Koppel, for UPGRADE 100 Podcast
So, long story short, hit play and listen to our exclusive podcast to discover Koppel's answers on:
– What did REVOLUT do better to grow 5x bigger than MONESE?
– How many active users MONESE is having now in Romania and globally?
– Why is MONESE different?
– What's the future of MONESE in the fintech world?
– What's the vision of the founder for the next 5 years?
Here's the EXCLUSIVE PODCAST with MONESE's founder
Listen in your browser bellow or on your favourite app: APPLE / SPOTIFY / GOOGLE
…or read the transcript of the discussion bellow:
EXCLUSIVE TALK: Norris Koppel, CEO and Founder MONESE and Dragos Stanca, founder UPGRADE 100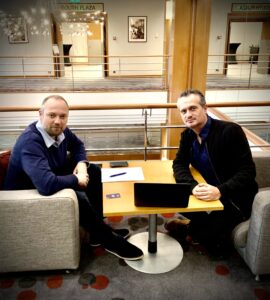 DS: Norris, it becomes more and more difficult to decide who's who and who's doing what in the fintech ecosystem. We are talking about e-money institutions, digital banking. How would you define Monese?
NK: I think Monese is really born into this world, because we want to make sure that people have the freedom to thrive anywhere, people should have the right to go anywhere and take their bank with them.
Historically, that has not been the case because when you are living in a country and are moving to another one, you typically have to open a new bank account which can be slightly complicated.
Banks are asking for documentation that you may not have, and, for example, my own painful experience – when I moved countries, I wasn't able to open a bank account for 6 months and, of course, there was no credit card, nothing like that.
So, Monese is really aiming to fix that problem and today we are all across Europe, so any Romanian can open a Monese account, in Europe in EUR, in the UK in pounds, and now also in RON.
DS: Let's assume I've never heard about Monese and I'm thinking to give it a try as an alternative to my current bank account or maybe to any other alternative financial system I have. We are together in an elevator. How would you convince me?
NK: I think one of the convincing aspects perhaps is that if you download the app and give it a go, it only takes you a couple of minutes and it costs you nothing.
So, I think the cost and convenience are a starting point, but then, when you actually start using the Monese app, you will also find it's not only convenient but it's incredibly simple and helps you to run your life.
Little things like money management tools for example, supportive notifications, also the ability to hold multiple currencies and also travel all around Europe with a single app without opening any bank accounts somewhere else.
DS: You know Revolut launched more or less the same time. As we speak, they are reporting 10M users. As we heard about, Monese's like 10 times smaller. What did they do better than you? Or, did they?
NK: Revolut is doing an absolutely fantastic job and there is no argument about that. They have been growing very fast.
Our propositions are somewhere different, though. It feels to me that Revolut is mostly helping customers to save money on foreign currencies and so on. Monese, however, is a little bit different, because we are focusing on providing our customers a true bank account, wherever these customers happen to live.
For example, in the UK, in Europe and also now in Romania, we have fully functional bank account numbers, IBANs, that one can use for salaries and to replace basically any other bank. So, you don't need another bank beside it.
Monese can be your only and primary account and this is, I think, where the proposition is somewhat different compared with Revolut.
Business accounts today are available in the UK only. We are aiming to launch business accounts in other countries, including Romania, also, soon.
DS: The other day, Revolut announced 1M users in Romania. What's your number now and what's your target for the near future?
NK: Important to keep in mind that Monese has been available in Romania for quite some time, but we haven't had actually a RON account or IBANs until today.
So, now we are launching. Today we have about 300,000 Romanian users, but after the launch of the RON accounts and dedicated IBANs, I think the growth will accelerate quite quickly.
DS: So, now, basically, you have now in Romania, 300,000 accounts. So, that's equal to what you had as a total number of users 2 years ago, if I am not wrong, in 2018. So, the growth is substantial. What's the total global number now? How big is Romania in the whole Monese ecosystem?
NK: Today we have 2M people on the platform and 300,000Romanians on the platform. And of those, Romanians living in Romania, we have about 100,000 or so on the platform.
DS: OK. Understood. So, basically, you're not 10 times smaller than Revolut, you're just 5 times 🙂
You said in many interviews and in the presentations I saw on the internet that there are a lot of people that aren't using any banking system, still in Europe and worldwide and that one of the reason you started this was out of frustration.
As a new citizen in the UK, coming from Estonia, you were not able to open up a bank account. How is the situation now and what is your core target? Who is your main target as we speak?
NK:
Monese was really born because of my own personal pain. I moved countries, couldn't open a bank account, so, basically, I built Monese for myself, to be honest.
We are focusing on the needs of people who are excluded from the banking (system); or (for whom) banking is more expensive or less accessible, because they are coming from abroad. So, I would say this is our core target. But anybody who has lived abroad or moved for work or study, or retirement, or marriage, they typically have experienced the same problem which we are now solving.
DS: How do you operate usually a new market? Do you open up a local office? You are operating from a regional one? What are your plans for Romania, as we speak?
NK: Luckily, in the European Economic Area it's possible to function without having an office in every single country. So, today we have offices in 4 places: firstly, in the UK, London, another one is Tallinn, Estonia, then Lisbon and also Berlin.
Romania is very important for us and it's a growing market for us so, right now we are also looking around with the goal of establishing an office here as well.
DS: Last but not least, the most stupid question I have to ask. Where do you see yourself as a product in 3-5 years from now?
NK: Our ambition has always been a truly international and truly global service, so, in my view, in 5 years, I would be absolutely happy if Monese would be far beyond Europe, as well as our customers, let's say Romanians, wherever they happen to live in the world, they can use just Monese and no other bank and they can take this service anywhere they want and it will replace any other banking service.
DS: Thank you very much. Looking forward to meeting you maybe for a keynote speech at UPGRADE 100 festival this June.
NK: Thank you very much!