Bayer G4A – we are on a mission to empower people to manage their health and wellness in the digital era. In order to reach that goal, we engage and collaborate with innovative companies through our different programs like the Accelerator (for early stage startups) and the Dealmaker (for more mature companies).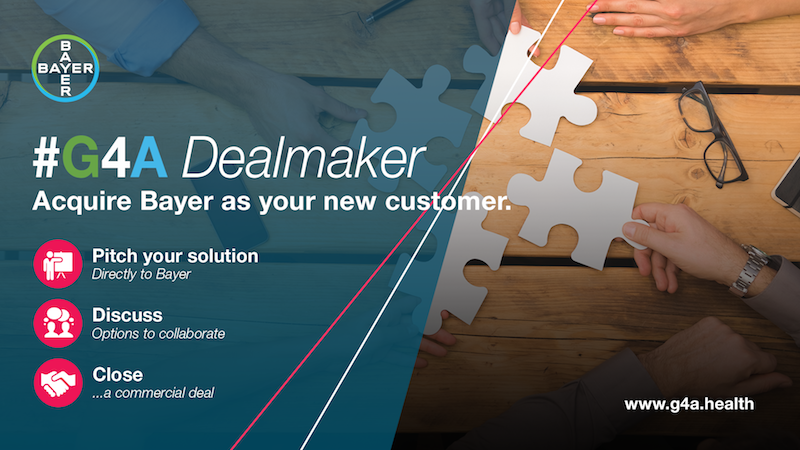 Eastern Europe has become an emerging player these past years in the tech space, with lots of innovative companies and great inspiring solutions. Bayer wants to engage and collaborate with this ecosystem, meet the entrepreneurs and share what we are doing at Bayer G4A. ICEEhealth is the perfect place for us to be, to meet those entrepreneurs and get a good idea on what is happening in Romania and Eastern Europe in terms of digital health innovation.
At G4A, we really want to bring Bayer and the digital health entrepreneurs closer. Bayer is looking to collaborate with mature market-ready companies to help us tackle some of the biggest challenges in healthcare. The best solutions will be invited to pitch to Bayer experts in October in Berlin, where the lucky finalists will sign a Letter of Intent to start a commercial deal with Bayer.
For our G4A Dealmaker 2018, we are looking for digital health solutions already on the market or about to go on the market, in the following areas:
Women's Health (e.g. PCOS diagnostics, physician engagement)
Radiology (e.g. data analytics)
Ophthalmology (e.g. remote monitoring for wAMD, patients-physician engagement, VEGF diagnostics)
Pulmonology (e.g. CTEPH diagnostics & monitoring, PH assessment)
New Product Commercialization (e.g. remote liver monitoring, clinical trial support)
Research & Development (e.g. EHR analysis, patient adherence and experience)
Haematology (e.g. disease management, physician engagement, treatment guidance)
Established Mature Products (e.g. physician engagement, patient engagement, diagnostics, remote monitoring)
Cardiovascular and Oncology coming soon
Visit our website for detailed information about the challenges. Deadline to apply is July 8th.
We are really excited to be coming to Bucharest and meeting you all!