A small but a very effective team. Iulian-Razvan Mateșică (hardware), Cristian Alexandrescu (app) and Flavia Oprea (business development) convinced the jury of Microsoft 2016 Imagine Cup that ENTy deserves to win this global competition among students and young people who desire to create new software and devices.
A few months after that performance, the Romanian startup announced that ENTy joins ICEEfest 2017, for the second edition of ICEEhealth.
Until June, let's find out more about the team that developed this practical hardware solution for tracking posture – helping with diagnosis and possibly treatment of diseases that affect balance.

This is Flavia Oprea interviewed by Lorena Macnaughtan (ICEEhealth Event Director):
How did you become a team?
     We didn't know much about each other before we started ENTy. We met through our professors at the Faculty of Automatics Control and Computer Science, with the wish to enter a pre-accelerator program for startups.
     Everything changed when our goal turned from entering the program to building an actual useful product to help doctors and their patients. We had the advantage of having complementary skills.
How did you come up with the ENTy device idea?
     An ear-nose-throat doctor came to us, presenting the problem she encountered in her cabinet. We went to the hospital and analyzed the problem she had and how she was diagnosing the balance of the inner ear.
     We decided that we should try to develop a device that would be better than current solutions in the ENT medical practice. We didn't know at the beginning how big ENTy was going to get.
What seems to you as most challenging as a healthcare tech startup?
     There are a couple of things I could mention as challenging for a healthcare tech startup.  
     First of all, getting the right fit of the product for the doctor. Doctors are not technical people at the core, so the User Interface design is one of the most important parts.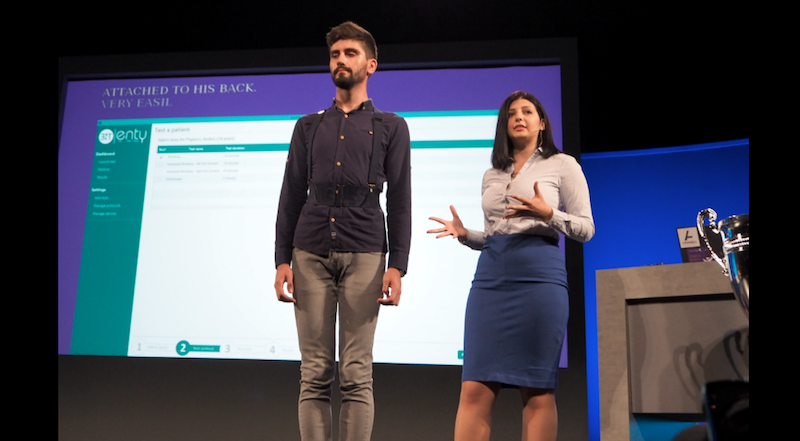 ENTy's presentation at Microsoft Imagine Cup
     Also, the product has to get all the data and analyze it very precise, because we're talking about saving a human's life, not fixing a computer.
     Second of all, as an early-stage start-up the lack of med-tech mentors and contacts affected us in our first few months. You need people that worked with med-tech start-ups on certifications, business, marketing and other areas.
     Nobody from the entrepreneurship world can teach you that, unless they had a real contact with the industry.
Tell us about your mentorship session with Satya Nadella?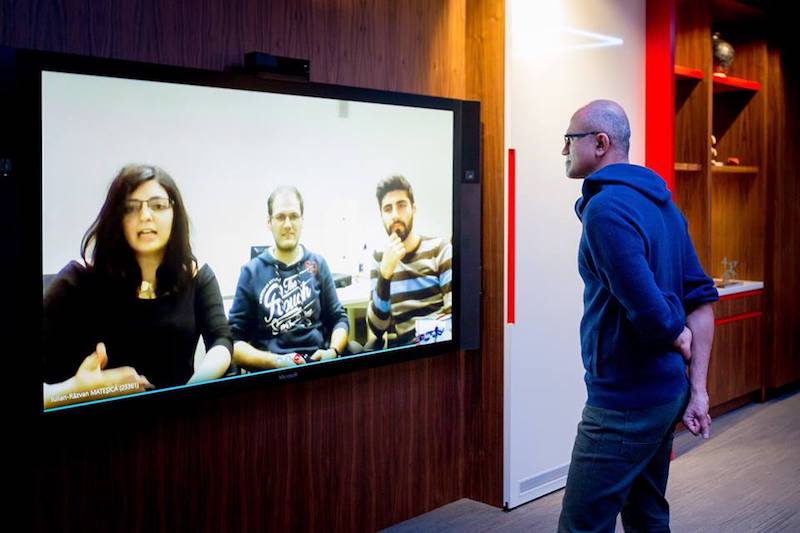 Satya Nadella is a really cool guy. Everyone thinks that a famous CEO of a big company is a fancy and pretentious man.
     But the truth is far from that. He showed up at our first mentorship session wearing a cool hoodie and talking to us like he knew us for ages.
     We were so happy and shocked at the same time of how simple everything seemed.
     We received a very positive and useful feedback and we got the courage to ask him a lot of things. He also introduced us to med-tech trainers from Microsoft and med-tech investors in order to teach us how to properly raise money for a healthcare start-up.
     That helped us a lot and taught us that CEOs of big companies are the simplest and coolest guys.
For more behind the scene insights and tips for getting ahead in the startup industry while focusing on digital health solutions, don't miss the 2017 edition of the ICEEfest, to be held on June 15&16.
CEE you in June! 😉