iCEE.fest 2017 meant +100 hours of content delivered by 178 speakers & guests on 6 stages.
The presentations will be available in iCEE.academy (gradually, starting this week) and everybody who has a valid ticket for iCEE.fest 2017 or 2018 (yes, you can already buy one, here) will receive a password to watch them.
Same applies in the app, each presentation (subject to speaker's approval) will be published in there, too – so you'll be able to can get the best from the time you'll spend on the beach this summer 😉
Although 3.397 attendees checked-in, this year the festival sold 4.147 tickets, which is a new record (1,200 people registered in the last 48 hours before the kickoff of the festival).
"Events wishing to report impressive figures to sponsors communicate the number of "entries". I mean, if we're translating to a digital indicator, we report unique visitors, not absolutely unique.Sponsors are also important for us, but our main source of income remains the tickets, so it's not necessary to cosmetize the figures, they look very good as they are: the exact and correct number of participants is 3,397 and over 4,100 tickets sold. The difference is constituted by those who, although having a ticket, probably bought by companies, didn't come and didn't give the ticket as a gift to someone else" Dragos Stanca, the founder of iCEE.fest
Here are other relevant figures of iCEE.fest 2017:
2.200 downloads of the iCEE.fest App
+50 exhibitors, partners & collaborators
16 startups make it to the stage (out of 200+ applicants)
800+ companies were present
18 countries represented
Also, this happened:
3,720 beers (Ciuc, Silva and Strongbow) – that's 1,227 litres!
2,400 Pepsi bottles – that's 1,200 litres
4,150 bottles of Aqua Carpatica – that means 2,175 litres
…and close to 14,000 coffees (wow!)
Win a VIP pass for iCEE.fest 2018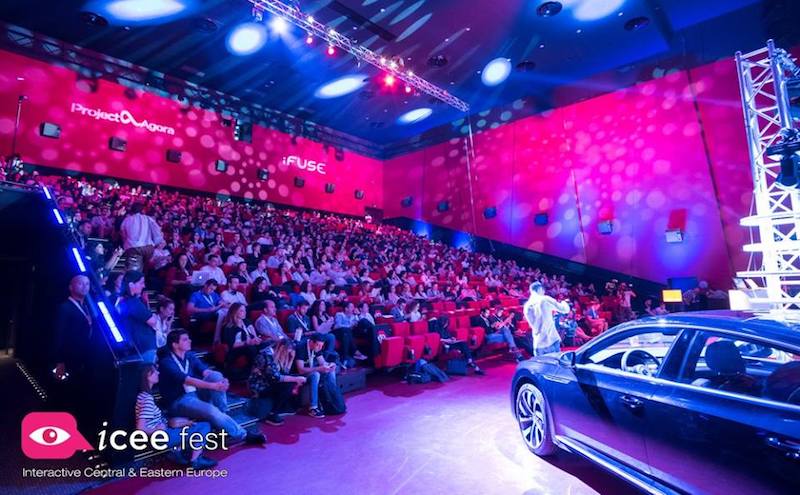 iCEE.fest is about the people and for the people, that's why we kindly ask you to complete this survey. We aim to become better with your kind support, so please do tell what's to be improved.
If you help us, you can win free VIP passes for iCEE.fest 2018 for doing a (small) effort to go through the questions (it takes less than 7 minutes).
Let's see what the speakers had to say about the festival:
Steve Bartlett, Social Chain: "It's a pleasure to be here and I just feel like there is no enough time to see every conference and experiencing what's here. It's an awesome festival"
https://www.facebook.com/ICEEFest/videos/1979677362058025/
Alex Khan, Attractive Media: "First of all I believe is very nice organised, second, as I said, there is a versatile group of speakers. So no matter in which industry you're in, I believe you'll get something out of it. There is a huge audience, also from the speaker perspective"
https://www.facebook.com/ICEEFest/videos/1979231148769313/
Shafi Ahmed, Medical Realities: "What I'm really impressed with is the energy, the enthusiasm, and the vibe around this wonderful conference which is a festival of creativity, of music, comedy, health care and technology. It's been an amazing experience for me"
https://www.facebook.com/ICEEFest/videos/1979360312089730/
Paula Monteiro, Wikitude: "I didn't expect this festival to be so big, but it's amazing to have all of this people gathered and I am excited to share some Augmented Reality goodness for you, guys!"
https://www.facebook.com/ICEEFest/videos/1979090758783352/
Nick Adkins, Pinksocks: "I used this hashtag on Twitter every time, GSD, which stands for getting sh1t done. I think iCEE.fest is hashtag GSD"
https://www.facebook.com/ICEEFest/videos/1979076895451405/
Thorsten Wiedemann, A Maze: "So many interesting topics about health and VR, data and visualisation; it's pretty cool, I really like it. I want to come back next year!"
https://www.facebook.com/ICEEFest/videos/1979686755390419/
Yoko K. Sen, Sen Sound: "I feel very honoured to be a part of this emerging community. That's really striving! iCEE.fest is really diverse; if you are walking around you bump into people from really all over the world and I think this is really rare"
https://www.facebook.com/ICEEFest/videos/1979703442055417/
Rasa Strumskyte, Talent Garden: "It's not only about new business and start-ups, but it's a lot of agencies / corporate, so I find it realy-realy great. The energy is great, also it's so easy to connect here. Just grab a drink and chat about all the digital tech things that we are all working on"
https://www.facebook.com/ICEEFest/videos/1979305192095242/
Andrei Kaigorodov, M&C Saatchi Milano: "You can feel the vibe as you enter the space. I love the resourcefulness of the people. The creativity. And I think that, on one hand, people are here to learn, on the other hand even the speakers have so much to learn back"
https://www.facebook.com/ICEEFest/videos/1979276222098139/
Jeff Leach, entertainer: "I said this every time I come back, and this is the 4th time. It's keep growing and growing every year. There's more added in, more stages, and a broader spectrum of things that you can learn"
https://www.facebook.com/ICEEFest/videos/1979073018785126/
Jan Fleck, FUTURECANDY: "I think is very important to have a dialog on new technologies and new trends all around Europe, happening also in Eastern Europe"
https://www.facebook.com/ICEEFest/videos/1979071105451984/
Fadi Shuman, Geometry Global: "In Romania is a fantastic digital community and technology community, so is great tap into that and understand what people are doing and developing"
https://www.facebook.com/ICEEFest/videos/1979067838785644/
Andreas Gysler, Zulu5: "What is interesting for me, coming from Switzerland, is also getting more eastern perspective on things. People are a little bit more curious here"
https://www.facebook.com/ICEEFest/videos/1979054125453682/
Dragos Stanca, iCEE.fest: "I guess we did something right. Again"
https://www.facebook.com/ICEEFest/videos/1979732238719204/
Missing the vibe?
Soon, the famous aftermovie will be launched but meanwhile you can enjoy the previous after movies.
Here you can see our selection of pictures from the event. You can also tag yourself in the album posted on our Facebook Page.
*****
Don't forget, you can