Co-Founder & Creative Strategist of the nomadic creative consultancy Genius Steals, Faris Yakob was named one of 10 modern day Mad Men by Fast Company and one of the most respected planners in the world by The Planning Survey (2009). Also, he has entered the list made by The Clio Awards for the top 100 creatives in the world (2012).
His bestselling marketing book, Paid Attention explores how ideas move people and how advertising can and should adjust to changes in the communication landscape.
Packed with real-world examples of campaigns from companies including Sony, Red Bull and HP, the book also contains practical advertising and branding templates and toolkits.

He is also the Co-Author of "Strands of Genius", named by Hubspot as one of the "7 Emails Every Curious Creative Needs To Read"
And contributing author for Digital State, What Is A 21st Century Brand?, Building the Agile Business, & Creative Superpowers (June 2018)
How it all began for Faris
Faris began his career as a strategy consultant for digital businesses during the first dot com explosion. He moved into the agency world, eventually joining Naked Communications.
He worked for Naked in London, Sydney and New York as a communication strategist and later as global head of digital.
"I really like the idea that advertising could be a positive force in the world" Faris Yakob
Next, he went on to be EVP Chief Technology Strategist at McCann Erickson NYC, tasked with ushering in their digital transformation, which led to them to winning their first ever Cyber Lion at Cannes.
Subsequently Faris was appointed Chief Innovation Officer of MDC Partners, a network of best in breed agencies, including CPB, Anomaly, 72 & Sunny and kbs+.
Faris was a founding member of the IPA Social Committee, is on the global advisory board of Social Media Week, and has judged numerous award shows, including the social category for the Effies.
He also put his mark here:
Helped the London International Awards to create and define the NEW category to reflect and highlight innovation in the industry
Has been involved in the ongoing discussions around social in the industry for almost a decade
Has written about social media and marketing for Campaign, Fast Company, Forbes, Contagious, Canvas8 and Age of Conversation books.
Key points on Genius Steals
Founded in 2013 (alongside his wife Rosie), the agency is working with brands, agencies, and start-ups on new communications ideas, new product concepts & ways of thinking, especially about the impact of tech on business and behavior.
Who they work with: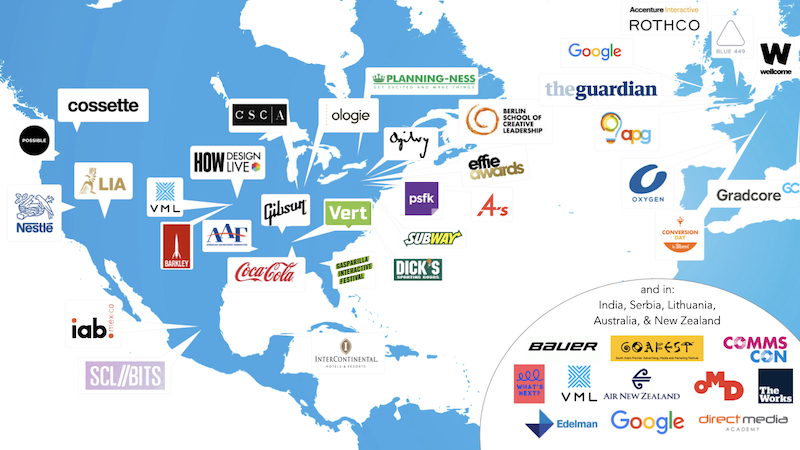 "We believe the best way to innovate is to look at the best of that which came before and combine those elements into new solutions"
Genius Steals follows 3 directions:
Consulting: on strategy, integration, branding and business models
Workshops: as part of professional development and education programs, brainstorms, innovation days & integration
Speaking: on media, brands, technology, advertising, creativity, culture, attention, and other relevant trends.
*****
Book your ticket @ iCEE.fest: UPGRADE 100 today and meet Faris Yakob. The digital transformation festival of CEE will take place on June, 13th& 14th, in Bucharest – Romania.