More than 130 digital and tech experts, authors and digital professional speakers will take the stage in Romania on June 13 &14 for the 8th edition of iCEE.fest.
The digital transformation festival, expecting over 4,000+ attendees, is changing its name and comes with a new concept, starting this year: UPGRADE 100.
Alongside with the name changing, the festival brings new content streams. Here's the new VIDEO GAMING & ENTERTAINMENT track – developed in partnership with RGDA.
Did you know that gaming revenues eclipsed all other major entertainment categories? Check the numbers bellow: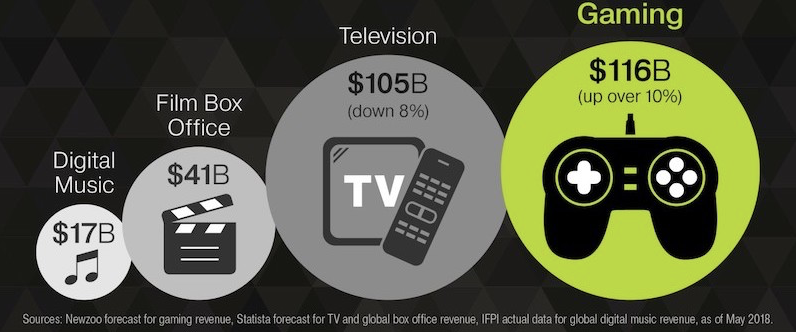 Ever since the 50's when gaming was showcased as a tech oddity at a science fair, it has grown into one of the most profitable entertainment industries in the world.
The video game industry is growing with new products and technology and could be worth nearly $138 billion by the end of the year.
The figure represents a 13.3 percent increase year over year, or an extra $16.2 billion. Video games have higher incomes than the music and movie industries combined. Asia Pacific was the largest gaming market in 2018.
Global video games market value in billion U.S. dollars from 2011 to 2020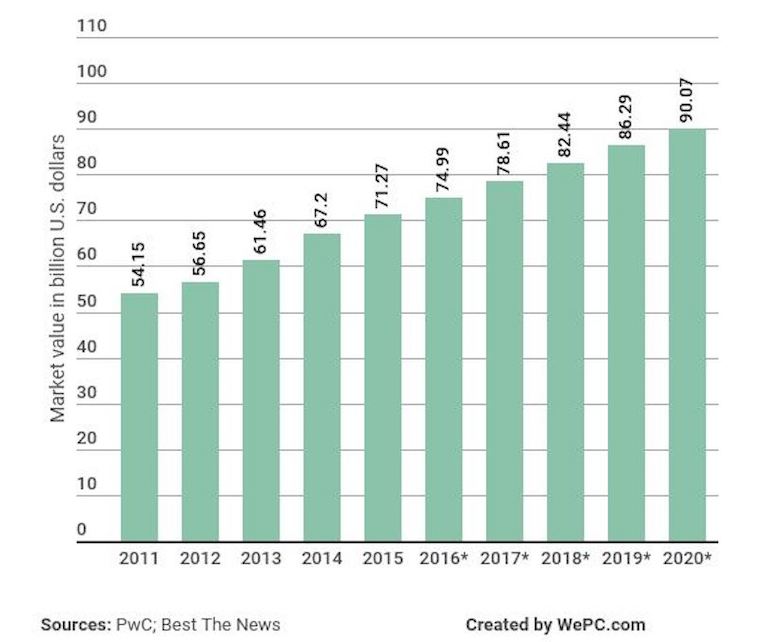 As technology expands so will video content, products, virtual reality, special events and video game tournaments.
Top Video Gaming Speakers featured @iCEEfest: UPGRADE 100
Patryk Grzeszczuk: Marketing Director @ 11bit Studios
A devoted gamer for the last 25 years and a brand/marketing specialist for the last 12 years, Patryk is focusing on game marketing and digital communication.
He believes that games are a new language and as such should be used to tell stories that matter.
As a part of the 11bit studios team, he has been responsible for developing strategies for This War of Mine, Beat Cop, and Frostpunk among other titles.
Andrey Yanyuk: Founder & CEO @ Tempo Storm
Andrey is an esports veteran and entrepreneur. He was a world-class esports competitor, and has built one of the largest followings on Twitch.tv.
Tempo Storm is one of the largest esports media companies in the world.
Its Hollywood studio is home to innovative, bleeding-edge productions including events, tournaments, and gaming content for one of the highest-trafficked websites in the space.
Graham McAllister: Games UX Consultant
Graham helps game developers improve their likelihood of success using two main approaches – by evaluating the UX of their game early and often throughout development, and by putting in place a 'players-first' development mindset.
Previously he was founder of Player Research which provides UX Research services to the games industry worldwide, and was acquired by Keywords Studios in 2016.
Graham now works as a freelance games UX consultant. He has also been a columnist on Games UX for EDGE and GamesIndustry.biz.
Catalin Butnariu: President @ RGDA
As the President of the Romanian Game Developers Association, Catalin considers himself an advocate of the Romanian games industry and is a firm believer in the talent and potential of Eastern Europe in the world of games.
He is also the Head of Corporate Development at Amber, a leading Romanian games studio, and the Founder and CEO of Dev.Play, a game development conference focused on Eastern Europe.
Prior to RGDA and his recent initiatives, he had spent a significant time at Gameloft, where he was managing a global division of over 1000 people.
Martin Kadinov: Regional Manager SE Europe @ ESL
Martin's fascination with video stems from his early childhood, and his journey in the world of e-sports kicks off as a professional player in Warcraft 3: Reign of Chaos where he ranks among the top players globally.
In 2003 Martin switches his role in the e-sports field by starting his own company in Bulgaria, where he runs the local franchise for ESL.
In 2004 Martin co-founds Bulgarian Federation for Electronic Sports of which he later on becomes a chairman. Bulgaria becomes among the first countries globally to recognize e-sports as a sport.
In 2014 Martin joins ESL's team as a regional manager for Southeast Europe, a position he still holds today.
The complete list of speakers is here.
*****
iCEE.fest: UPGRADE 100 will cover 11 trends and macro trends this year:
DISRUPTIVE INNOVATION | ADVERTISING & MARCOM | CREATIVITY & EXPERIENTIAL | AI & ROBOTICS | eCOMMERCE & RETAIL | DIGITAL CONTENT & ADTECH | FINTECH & eMONEY | eHEALTH & MEDTECH | TECH & DEMOCRACY | STARTUPS & INVESTMENTS | VIDEO GAMING & ENTERTAINMENT.
Book your ticket @ iCEE.fest: UPGRADE 100 today. The digital transformation festival of CEE will take place on June, 13th& 14th, in Bucharest – Romania.