An interview with the HR expert and book author Prof. Leslie Szamosi, Director of the Pan – European Executive MBA, CITY College, University of York Europe Campus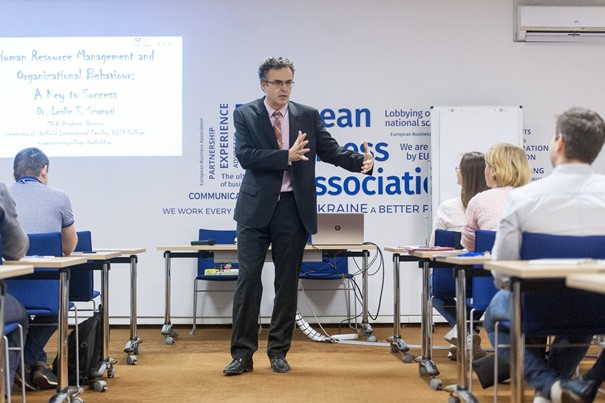 Why is education at any age important, why do we need a permanent upgrade, how will digital education evolve after the pandemic?
What are the main assets that a business leader today must have in order to succeed, how has our general relationship with work and with what we call "human resources" changed during these times?
These are just some of the dilemmas that the founder of UPGRADE 100, Dragoș Stanca, tried to clarify in an intense talk with professor and book author Leslie Szamosi (foto), director of the MBA program at CITY College, University of York Europe Campus, in a new episode of our podcast. Here's a preview:
Dragos: I don't think that at +40 years, as a successful manager, I still need to learn something. Maybe I should teach others: am I right or am I arrogant?
Leslie: You are not wrong and you are not arrogant. You're just naive.
Prof. Szamosi is an accreditor and panel chair for the International Faculty of the Association of MBAs and a regular evaluator of European Union funded projects.
After a 5 years tenure as marketing manager for an international bio-technology and opto-electronics company in Ottawa (Canada), Prof. Szamosi worked as a private consultant for diverse organisations such as the European Union, Digital Electronics (now part of Compaq Computers), Human Resources Development Canada, KPMG Management, the Canadian Imperial Bank of Commerce and British Columbia Telecom (now TELUS).
He is widely published in over 70 highly-ranked international journals and conferences and is a co-author of the book "Human Resource Management: A Critical Approach".
The main focus of prof. Szamosi is now the Executive MBA program of CITY College, University of York Europe Campus, – an international programme designed for today's managers and business professionals who need to improve their skills and knowledge for their professional career and personal development.
The Executive MBA program is delivered in various cities across South East and Eastern Europe, including Sofia, Thessaloniki, Bucharest, Belgrade, Kiev, Tbilisi, Yerevan and Baku.
Below are the main talking points between Prof. Les Szamosi and Dragoș Stanca, in brief, and the time-codes you can click on to skip directly to the fragment you're interested in.
Key Talking Points
04:00 -> 30 years of development of executive MBA programs in the region: how important is the global openness adjusted to the particularities of Southeast Europe.
06:30 -> What is the optimal age for starting an executive MBA, how has education for leaders changed during and after the pandemic?
My no. 1 advice? Don't assume anything, anymore 

Leslie Szamosi, director of the MBA program at CITY College, University of York Europe Campus
11:45 -> What questions do you need to ask yourself to find out if and which executive MBA program is useful for your level?
14:45 -> What changed during the pandemic in this type of education and how did you adapt as a business to the challenges. How do you learn and teach in a hybrid or remote environment?
18:30 -> The old "theory" vs. the new reality: do we need to re-write all the management books? How do we need to learn to better manage a remote team?
In our region we can still see, from an HR point of view, gaps between the higher levels and the lower levels of the organizations. It is an "us" versus "them" perspective, as opposed the "team" perspective
Leslie Szamosi, director of the MBA program at CITY College
24:45 -> Can you be a great leader via Zoom or Skype? How should a business leader behave regarding teleworking and colleagues that they never met in person?
29:00 -> "Productivity was growing during the pandemic. Now, working from home has started to reduce productivity. Why?"
32:00 -> Can you improve the soft skills by entering an MBA programme? Is this something you can learn? Can you create a leader or is being a leader something you're born with, or not?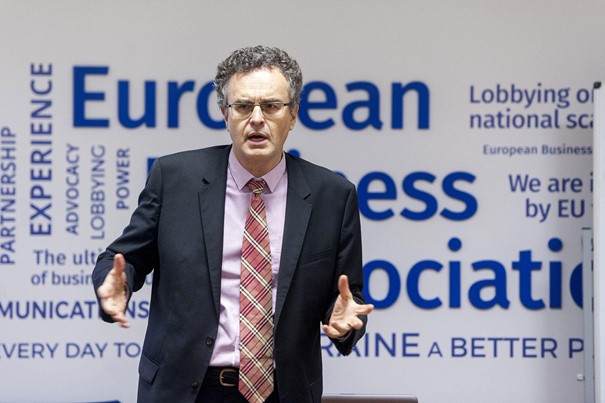 Managers in our region are great technical managers. We are excellent in technical management. We are not so great in the soft skills, the soft side of management. The news is that especially after the pandemic the soft skills are the most important ones
Prof. Leslie Szamosi (photo), CITY College, University of York Europe Campus
36:00 –> Can we search for leaders outside of the company or you have to always promote the best members of your actual team? What is a leader, how can you "spot" a leader?
41:10 –> What separates winners from losers after this pandemic year?
The most important people in an organization are the people at the lower levels, not your middle managers
Prof. Leslie Szamosi
46:30 -> What programs do you recommend at CITY College? Details about Neuromarketing and Digital Analysis MBA programs. Time and money investment in City college MBA: how do you calculate the benefits?
54:00 –> Top 3 free advice for business leaders today. "No. 1: Don't assume anything, anymore. Never…" Check the other 2 by listening to the interview.
[#Partnership: for more details visit https://york.citycollege.eu]