Între iunie și octombrie, juriul UiPath Automation Awards 2019 va evalua companiile tehnologice eligibile pentru categoriile Start-Up și Scale-Up
Compania lider de Robotic Process Automation (RPA) enterprise software, UiPath lansează competiției UiPath Automation Awards 2019, adresată start-up-urilor de software de automatizare B2B din Europa Centrală și de Est.
Programat să se încheie în luna octombrie a acestui an, concursul își va premia câștigătorul cu 50.000 de euro în cadrul ceremoniei găzduite de conferința How to Web din București.
UiPath Automation Awards a început deja să primească aplicații pentru cele două categorii:
Start-Up Automation Award– la această categorie, jurații primesc aplicații din partea echipelor existente care au deja un produs viabil de automatizare și o finanțare existentă de maxim 1 milion de dolari;
Scale-Up Automation Awards– pentru a se califica la această categorie, companiile eligibile trebuie să aibă cel puțin trei clienți plătitori, o echipă consolidată și să nu fi primit o finanțare mai mare de 3 milioane de dolari;
Câștigătorul categoriei Start-Up va primi un premiu în bani de 50.000 de euro, mentorat din partea unei echipe de seniori din cadrul UiPath și suport tehnic și de marketing.
Câștigătorul celei de-a doua categorii, Scale-Up, va avea ca premiu prezentarea lui la cel puțin 4 clienți internaționali ai UiPath, suport tehnologic si de marketing, precum și oportunitatea de a avea soluțiile sale de automatizare incluse în laboratoarele UiPath Immersion din întreaga lume.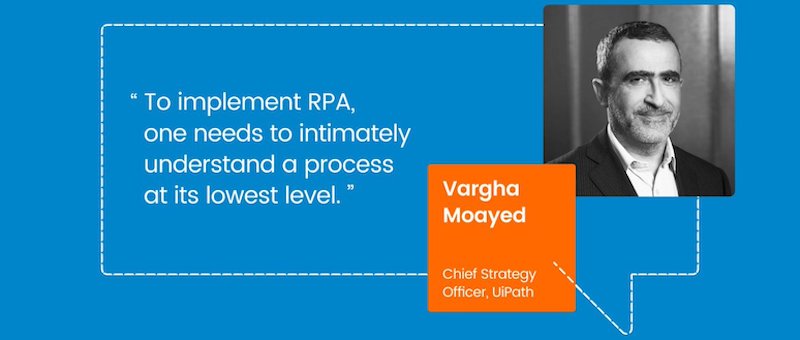 "Noi, cei de la UiPath, nu am uitat că, în ciuda evaluării actuale de 7 miliarde de dolari, nu cu mult timp în urmă eram un start-up care se confrunta cu dificultăți și care lucra dintr-un apartament din București cu o echipă de numai 10 oameni. Știm cât de greu este ca o idee strălucită să devină o companie de succes. De aceea, dorim să întindem o mână de ajutor antreprenorilor talentați din regiune în așa fel încât și ei să-și îndeplinească visele,"spune Vargha Moayed, Chief Strategy Officer la UiPath și inițiatorul acestui proiect.
Aplicațiile vor fi evaluate de către cei 5 membri ai juriului: Elisabeta Moraru, Chief Executive Officer Google România, Vargha Moayed, Chief Strategic Officer UiPath, Boris Kumrey, Chief Robotics Officer UiPath, Ondrej Bartos, Managing Partner Credo Ventures și Stephen Allott, Partner Venture Seedcamp.
Termenul limită pentru primirea aplicațiilor este 2 septembrie 2019, iar jurații vor face o selecție inițială a candidaților până la data de 16 septembrie.
Din 7 octombrie, membrii juriului vor efectua vizite pe teren și vor nominaliza 3 finaliști pentru fiecare categorie.
Aceștia își vor susține candidatura pe 30 octombrie încadrul conferinței How to Web din Bucuresti.
Competiția este deschisă oricărui start-up sau companii în faza inițială de dezvoltare, active în industria automatizării software, din Europa Centrală șide Est (Albania, Belarus, Bulgaria, Croația, Cipru, Republica Cehă, Estonia, Grecia, Ungaria, Letonia, Lituania, Malta, Moldova, Polonia, România, Republica Slovacă, Slovenia, Ucraina și Turcia).
*****
Business Development Manager la UiPath, Răzvan Atim a fost prezent pe scena UPGRADE 100, acolo unde a spus povestea companiei a cărei evaluare a crescut de la 100 milioane dolari la peste 7 miliarde dolari în doi ani.
Prezentarea va fi disponibilă în aplicația festivalului, pentru cei care au avut un bilet la ediția din acest an sau și-au achiziționat unul pentru 2020.