After winning numerous Effie Awards for digital effectiveness as well as Cannes Lions, Spikes, BIMA's and Clios, MullenLowe Profero will be represented by Rob Collins (Global Head of Strategy) and Peter Moody (Managing Director, London) at iCEE.fest: UPGRADE 100, the digital transformation festival that will take place in Bucharest in a few days only.
Before the festival, we talked with Rob Collins and Peter Moody about the challenges that a creative agency has to solve, creativity in the future age of tech and many more.
Let's find out the answers:
Q: What are today's world challenges that a creative agency has to solve in being top of its class?
Rob Collins: It's a challenging time to be a creative agency but also the canvas for creativity has never been broader. Talent is the life blood of any agency and there is a fierce battle for the best people against media/tech companies, consultancies, start-up brands and even in-house client teams.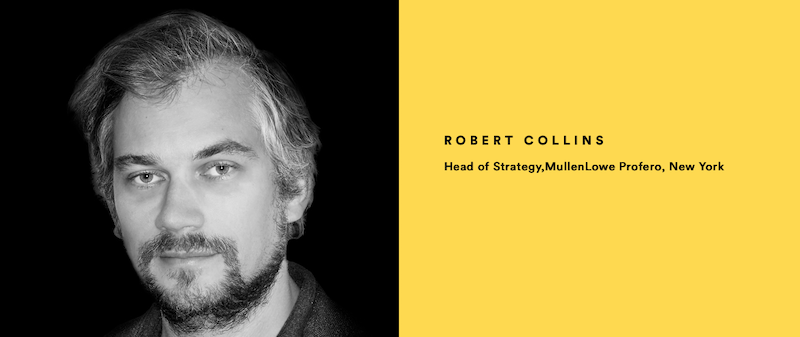 "The creative process has become much more of a team effort as the world of marketing has become more complex"
It's the culture that an agency fosters that keeps it at the top of its game and becomes a beacon for top talent. At MullenLowe Profero we're building diverse teams capable of bringing new kinds of solutions to our clients' business problems.
Q: What are the most notable things that have influenced, shaped, maybe shifted your career into what it is today?
Peter Moody: I still think the iPhone has to be one of the most transformational moments that democratised the power of customer experiences.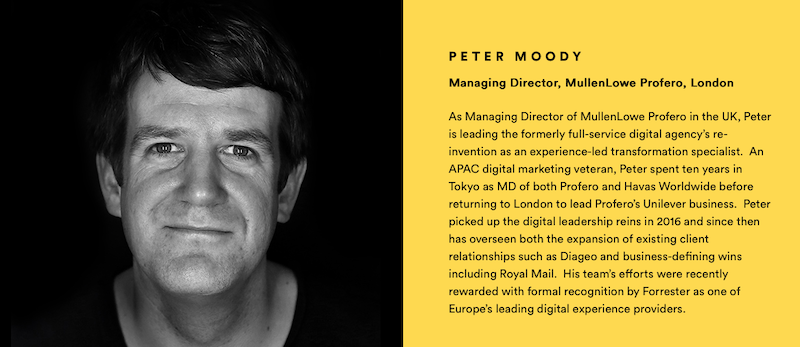 Its ability to completely revolutionise the mobile devices market and bring the demise of the then leaders of Nokia and Motorola was the catalyst for the experience economy.
It was clear that the world of communications was going to shift from that point as the value moved from not what you talked about but what you enabled consumers to do.
Q: How do you see creativity in the future age of tech, digitalization, cyborgs, de-humanized society and the economy of attention?
Rob Collins: At the core of MullenLowe Profero is our goal to create an unfair share of attention for our clients. With the ability to opt out of digital advertising, the growth of emerging technologies in AI and voice, creativity will play and even more important role in winning the hearts and minds of consumers.
Creativity will shift from thinking about how your brand looks to how you brand talks, and this leads to a real debate about whether technology will continue to be the most important factor to the future of brands in the next 10 years, or at the same time will the importance of human connectivity start to rediscover itself and enable deeper connections with consumers.
Q: What's the campaign that gave you the most satisfaction? Also, why?
Peter Moody: We tend to do less and less "campaigns" and more broader programs of work over a longer period of time.
Our relationship with clients such as Diageo span over 12 years and it is the satisfaction that we get to be on an innovation journey with them, where we push the boundaries of technology, prototype and iterate our ideas at speed and work in partnership to unlock the opportunities that the experience economy brings.
"It is more often than not these relationships that drive true business value rather than one off peak campaigns"
Q: Give us 3 tips for someone who wants to start a creative agency.
Rob Collins:Agencies have a huge opportunity to support and drive transformation with their client's businesses. Their ability to be nimble, free of legacy and lacking of internal silos is a huge benefit and need for many clients.
It does require agencies to ensure they:
Are really clear on what problem, their offering, is aiming to solve, just being "more creative" is not enough.
Bring new ways of working, thinking, incorporate tools and agile methodologies to innovate at speed and iterate accordingly
Be confident about the value you bring to companies and ensure this is demonstrated. The impact creativity can have in the experience economy is not a commoditised resource.
Join UPGRADE 100 and find more on MullenLowe Profero and their stunning campaigns.
*****
The digital transformation festival of CEE will take place on June, 13th& 14th, in Bucharest – Romania.
You can check the speakers for each content track by clicking the links bellow:
 DISRUPTIVE INNOVATION | ADVERTISING & MARCOM | CREATIVITY & EXPERIENTIAL | AI & ROBOTICS | eCOMMERCE & RETAIL | DIGITAL CONTENT & ADTECH | FINTECH & eMONEY | eHEALTH & MEDTECH | TECH & DEMOCRACY | STARTUPS & INVESTMENTS | VIDEO GAMING & ENTERTAINMENT  -> all the speakers, grouped on each content stream are listed here.