Eye gaze, where we're looking at, is one of the most important non-verbal cues in human-human communication.
By "seeing" the eye gaze, we can understand and even predict a person's attention, intention and interest.
In the age of "Internet of Eyes", where cameras become ubiquitous in our homes, cars and manufacturing, eye gaze detection is a key component in enabling intuitive human-machine interactions.
Eyeware @ iCEE.fest 2017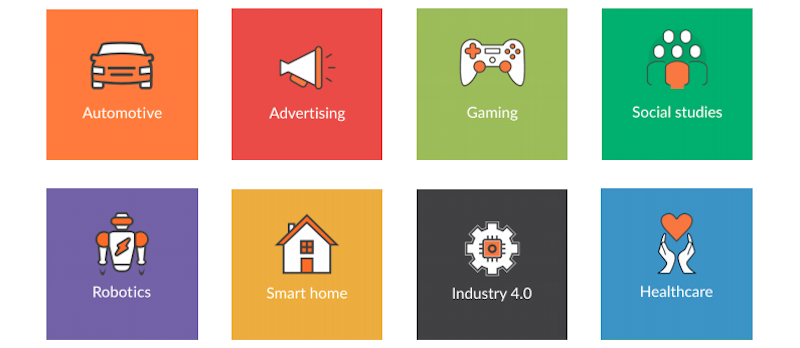 A tech startup founded in Switzerland, Eyeware develops eye tracking software using 3D consumer-level cameras (eg Microsoft Kinect, Intel Realsense) instead of specialized hardware (infrared eye monitors) that only work in front of a screen.
Their patent-pending algorithm allows you to observe in a 35x higher field of view for attention detection, eye-control, and interaction with smart devices with new 3D applications (not just for the screen).
"We will present a new technology for 3D eye tracking, developed by Eyeware, and discuss the use cases of eye tracking in multiple industries" Serban Mogos, Co-founder, Eyeware
Serban is one of the speakers for the startup scene @ iCEE.fest – Focus Stage 3/ June 16 – and will talk in the session dedicated to the "Future CEE Digital & Tech Stars".
How Eyeware increases human-machine engagement:
Attention: Accurate gaze tracking can indicate if and where the user is paying attention, and use the information to improve context awareness
Intention: Smart devices can predict the intention of the user and preemptively offer assistance
Interest: By understanding interest, social machines can actively interact with users and deliver only the information relevant to the current activity
Engagement: By receiving context-driven dynamic feedback, users become engaged with the social machine
This is the Prototype for Eyeware Assist/ May 2016
Advantages of Eyeware technology
Eyeware's novel technical approach enables a unique set of features and solves the problem of eye tracking in dynamic, unconstrained, real-world scenarios:
Non-intrusive sensing and control: Detecting gaze direction without any glasses or facial markers, which can be used for sensing-only, or for device control
High flexibility of movement: We eliminate restrictions on the user being fixed in a limited tracking box in front of the camera, with up to 10x wider area
Multi-person and long-distance: Our technology is able to recognize and track multiple people in the same frame, and for distances in the range of 0.5 – 5 meters
Robust to difficult conditions: Our algorithms can adapt automatically to fluctuations in lighting or to a large diversity of user characteristics
On June 16, we'll find out how the unique advantages of Eyeware eye tracking can power the next generation of human-machine interaction in social robotics, automotive, smart home, social studies, healthcare, gaming, industrial automation and advertising.
*****
iCEE.fest will take place in Bucharest, on June 15 & 16.
Our Agenda is here and here you'll find everything you want to know about startups @ iCEE.fest.