The event of the year in eCommerce in the CEE region, GPeC Summit brings in Bucharest (November 14-15) some of the best international and regional professionals.
There will be 2 intensive days of inspiring keynotes, thorough case studies and highly practical workshops. This is the complete program of the event.
"For 12 years we've been making it our main goal to bring you the best of the best in terms of E-Commerce & Online Marketing speakers, so that you learn and get inspiration only from the top global specialists"
Here is the list of the speakers who will present @ GPeC Summit.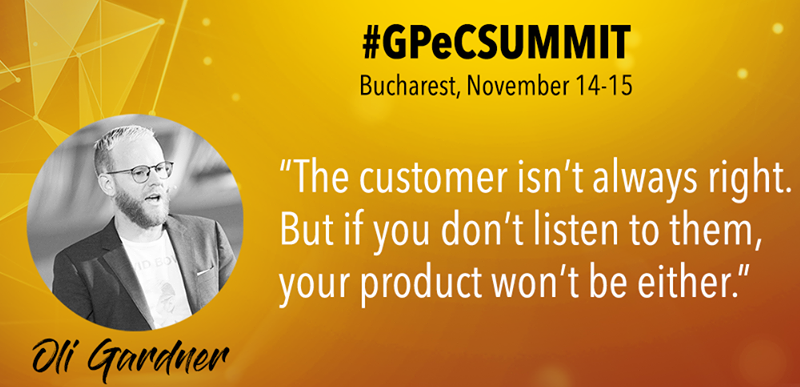 Reasons to go @ GPeC Summit on November 14th and 15th
You'll have the unique chance to listen to some of the most respected international experts in E-Commerce and Online Marketing: Neil Patel (Crazy Egg, Kiss Metrics & Hello Bar), Oli Gardner (Unbounce), Cyrus Shepard (ex-MOZ) Mallikarjunan (HubSpot), Amy Harrison (Write With Influence) and many others.
Besides the international speakers, the best Romanian specialists join the GPeC stage: Felix Patrascanu (FAN Courier), Iulian Stanciu (eMAG), Lucian Aldescu (DPD Romania), Marius Costin (PayU), Antonio Eram (mobilPay), Bianca Grip (GripADs), Alexandru Lăpuşan (Zitec), Lucia Ciucă (Quantum Data Science, The Group), Doina Vîlceanu (ContentSpeed), Cristian Ignat (Canopy), Mihai Vînătoru (DWF), Bogdan Manolea (ApTI & Trusted.ro), Andrei Georgescu (White Image), Horia Neagu (Digital Marketing Consultant) etc
There will be 2 days of premium content with tips & tricks about online sales growth, mistakes that should be avoided by merchants, up-to-date market conditions, marketing strategies that turn concrete results, Usability, SEO, CRO, logistics issues, trends and predictions for 2018 and the near future.
If you are an online store, you have the opportunity to meet up with over 20 e-commerce providers at the GPeC Expo and establish long-term partnerships.
You are networking with the elite of the digital industry in Romania and Central and Eastern Europe, 800+ top management participants are expected in the two days of GPeC SUMMIT and you'll find out the E-Commerce Winners of the Year in the eCommerce Awards Gala on the evening of November 15, in a show atmosphere maintained by Andi Moisescu (ProTV).
There is a special price for iCEE.fest-ers: type in the "Pret_Special_ICEEfest#99" mention in the Additional Comments section of the form and register before Friday, October 10th, ora 23:59.
Here you'll find all the details about the program and here is the registration page.